Migrant Workers Office (MWO)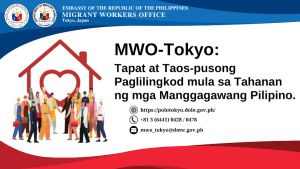 The Department of Migrant Workers (DMW), under the executive department of the Philippine government, is tasked to protect the rights and promote the welfare of overseas Filipino workers (OFWs).
The DMW is mandated to facilitate the overseas employment and reintegration of Filipino workers, while taking into consideration the national development programs of the National Economic and Development Authority (NEDA). It is also tasked to promote the empowerment and protection of OFWs through continuous training and knowledge development.
The Migrant Workers Office (MWO) in Tokyo, Japan is the DMW's overseas operating arm in the implementation of Philippine labor policies and programs for the protection of the rights and promotion of the welfare and interests of Filipinos working in Japan.
Meanwhile, the MWO has two (2) sections, the Labor and Employment Facilitation Services Unit (LEFSU), and the Welfare Services Unit (WSU).
LABOR AND EMPLOYMENT FACILITATION SERVICES UNIT
Ensures that the employment documents of OFWs are consistent with prevailing employment laws, standards, and practices of both the Philippines and Japan, and that the documentary requirement for overseas employment as required by the Department of Migrant Workers (DMW) are complied with.
Accreditation of Prospective Employers
Refers to the authority granted to a foreign principal/employer to recruit and hire Filipino Workers through a licensed Philippine Recruitment Agency (PRA) for overseas employment.
Employment Contract Verification
Refers to the procedure being conducted or applied by MWO to ensure that the employment rights, benefits and welfare of the Filipino migrant workers in Japan are duly protected and conform with prevailing employment laws, standards and practices in both Philippines and Japan.
Assistance to Balik-Manggagawa
Assists OFWs on their Balik-Manggagawa (BM) processing nd requirements as returning workers.
Information Dissemination
Provides timely and relevant information, education and communication (IEC) materials for OFWs in Japan through MWO Tokyo website, other printed materials (flyers, posters, etc.) and MWO-OWWA Tokyo Facebook fanpage.
Monitoring and Reporting
Continuously monitors and reports on labor market situations and policy development on the host country that may affect Filipino migrant workers and Philippine labor policies.
PROGRAMS
MWO Tokyo Mobile Services
Conducts outreach missions to OFWs and Filipino Communities in delivering its programs and services.
Social-Cultural Activities for OFWs and Support to Filipino Communities
Encourage Filipino Bayanihan Spirit while living and working in a foreign land.
Consultative Meeting with Partner Host Government Agencies, Diplomatic Missions, and other Stakeholders
Conduct consultation meetings/briefings with partner agencies and labor counterparts to provide updates on current labor and employment policies.
Monitoring of OFWs
Conduct of monitoring on the working and living conditions of OFWs.
WELFARE SERVICES UNIT
The Welfare Services Unit, manned by OWWA personnel works for the protection and promotion of the well-being of all OFWs and their families in job sites abroad and in the Philippines, upon return or even while at the jobsite.
OWWA Membership
With USD25 or its Japanese Yen equivalent as membership fee, an OWWA member is entitled to various benefits and services.
• Social Benefits (Death, Burial, Disability Benefits)
• Welfare Assistance (Calamity, Medical, Bereavement, Relief Assistance)
• Education and Training Assistance
• Workers Welfare Assistance
• Social and Family Welfare Services
• Reintegration and Livelihood Assistance
Workers Welfare Assistance Program
• Conciliation/Mediation with employer and recruitment agencies
• Referral Assistance to OFWs who wish to pursue labor/welfare case against their employer and/or recruitment agencies
• Psycho-social counseling
• Hospital/Jail/Detention/Work Campsite Visitation
• Repatriation Assistance to workers who are distressed, mentally or physically ill, and human remains
• Other assistance on whereabouts, personal/relationship or problems.
Reintegration-Preparedness Training Program
• Values Formation
• Financial Literacy
• Entrepreneural Development
• Techno-skills and capacity building
Contact Information:

Address
Migrant Workers Office (MWO)
5-15-5 Roppongi Minato-ku, Tokyo 106-8537
Tel
(03) 6441-0428
(03) 6441-0478
(03) 6441-0959 OWWA
Fax
(03) 6441-3436
Email
For accreditation of Principals:


mwo_tokyo@dmw.gov.ph

For contract verification, OEC and other labor-related concerns


oec.tokyo88@gmail.com

For welfare concerns:
polo_tokyopost@yahoo.com.ph

Facebook
MWO-OWWA Tokyo
Website
https://polotokyo.dole.gov.ph