Mylene J. Garcia-Albano
Ambassador Extraordinary and Plenipotentiary
Embassy of the Republic of the Philippines
Tokyo, Japan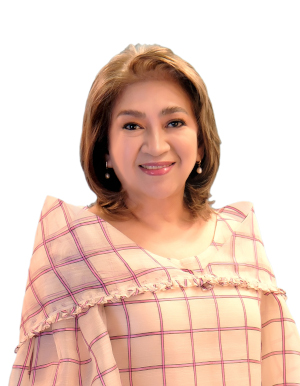 Ambassador MYLENE DE JOYA GARCIA-ALBANO is a native of Davao City and the first female Ambassador of the Philippines to Japan. She is an accomplished lawyer and bar topnotcher, with a long and distinguished career in the government service.
The Ambassador was the only female in the Top Ten examinees of the 1990 Philippine Bar Examinations, placing third with a grade of 88.95 percent. She graduated with Second Honors from the Ateneo de Manila University's College of Law in 1990, where she also served as the Student Government's first female President from 1989-1990. She earned her Bachelor of Arts degree in Political Science from the George Washington University in Washington, D.C. in 1982 and an Associate of Arts degree in Liberal Arts from Marymount College in Palos Verdes, California in 1980.
Prior to her appointment as Ambassador, she was a Member of the Board of Directors of the Davao City International Airport Authority.
A long-time lawmaker, she was the first female elected to represent the 2nd District of Davao City in the House of Representatives. She served three consecutive terms as Congresswoman from 2010-2019. During this time, she also served as Assistant Majority Leader of the 15th Congress (from 2010-2013), Chair of the Committee on Constitutional Amendments of the 16th Congress (2013-2016), and Deputy Speaker of the House of Representatives of the 17th Congress (2016-2019).
Prior to her term in Congress, she was able to put her legal skills to good use in various offices in government. Among others, she worked as Chief of Staff of Senator Mar Roxas; as Assistant Secretary of Local Government Affairs and Legal Affairs of the Department of Environment and Natural Resources; as Executive Director of the Land Administration and Management Project of the DENR; and as Legal Assistant at the Office of Chief Presidential Legal Counsel Renato L. Cayetano.
After being admitted to the bar, she worked at the Ponce Enrile Cayetano Reyes & Manalastas Law Offices and later at the Villareal Law Offices.
She is married to Governor Rodolfo T. Albano III of the Province of Isabela and is blessed with a son.