Philippine Investment Opportunities Attract Japanese Businesses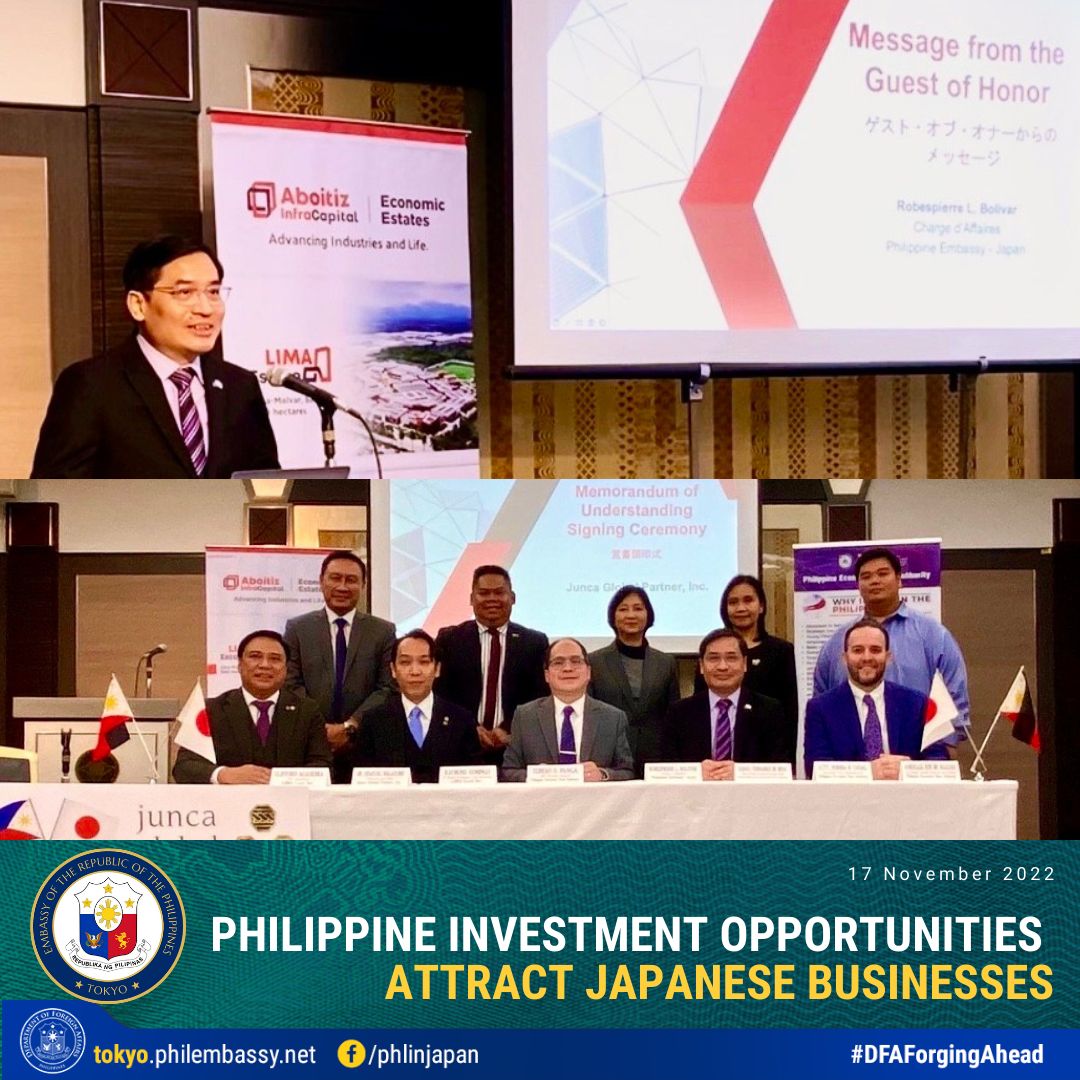 The Philippine Embassy in Japan participated in the Investment Forum with the Philippine Economic Zone Authority (PEZA) and Aboitiz InfraCapital Inc. which was held on 17 November 2022 at the Hotel New Otani Tokyo, Japan, and attended by various Japanese corporate and financial institutions.
In his remarks, the Embassy's Chargé d'Affaires (CDA) Robespierre L. Bolivar stated that "Japan has been a reliable partner of the Philippines in its development agenda, capacity-building initiatives, and COVID-19 recovery efforts," highlighting the role of the private sector in the country's economic development. With the Forum providing new insights into the country's economic performance and game-changing reforms, he enjoined the participants to "keep the Philippines top of mind as an investment destination."
PEZA Officer-in-Charge Tereso O. Panga lauded how Japanese companies contribute to the country's investment, employment and export targets, sharing that 27.31% of the ecozone locator investments in the Philippines are Japanese. The country is currently hosting 898 Japanese locator companies that directly employs 351,335 workers; and generating investments of Php739.59 billion from 1999 to September 2022, and exports worth USD$13.25 billion for the January to September 2022 period.
For his part, Mr. Rafael Fernandez de Mesa, First Vice President of Aboitiz InfraCapital Inc., introduced how Aboitiz is making breakthroughs in the development of sustainable economic estates, providing the necessary infrastructure, facilities and services for ecozone locators including the likes of Tsuneishi and Toyota.
CDA Bolivar also witnessed the signing of the Memorandum of Understanding between PEZA and Junca Global Partner, Inc., and the Registration Agreement between PEZA and Kurabe Industrial Philippines, Inc.