Philippine Innovation, Tourism and Sustainability Showcased in City-Tech Tokyo 2023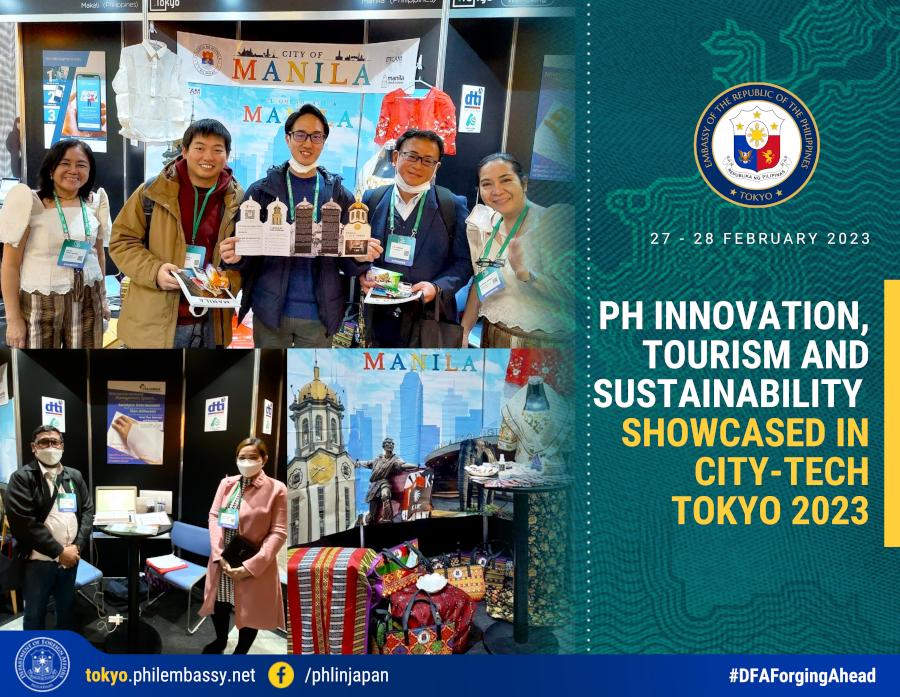 28 February 2023 – Four (4) Philippine booths showcased innovation, tourism and sustainability at the City-Tech Tokyo 2023 held from 27 to 28 February 2023 in a hybrid format online and at the Tokyo International Forum.
The Philippines' booths include: Lungsod ng Maynila, the Department of Trade and Industry (DTI), Magpie, and Patchmed Cosmetic Trading.
City Councilors from Manila also called on Ambassador-designate Mylene J. Garcia-Albano to inform the latter of their participation in the City-Tech. Ambassador Albano believes that the event provides a platform, not only for Filipinos but also for participants all over the world, to learn best practices on promoting start-ups and innovation, and resolving global urban issues.
City-Tech Tokyo is the first global event for startups led by the Tokyo Metropolitan Government (TMG) as the first step in its Sustainable High City Tech (SusHi Tech) Tokyo initiative to support startups' challenge to create a sustainable society.
Around 13,000 participants registered to participate in the City-Tech, both online and onsite.
Regarding the number of booths per category: Infrastructure (68 booths); Living (37 booths); Environment (40 booths); Culture (20 booths); and Cities and accompanying startups (134 booths).