Philippine Ambassador Garcia-Albano Meets the Filipino Community in Nagoya at the Philippine Friendship Fair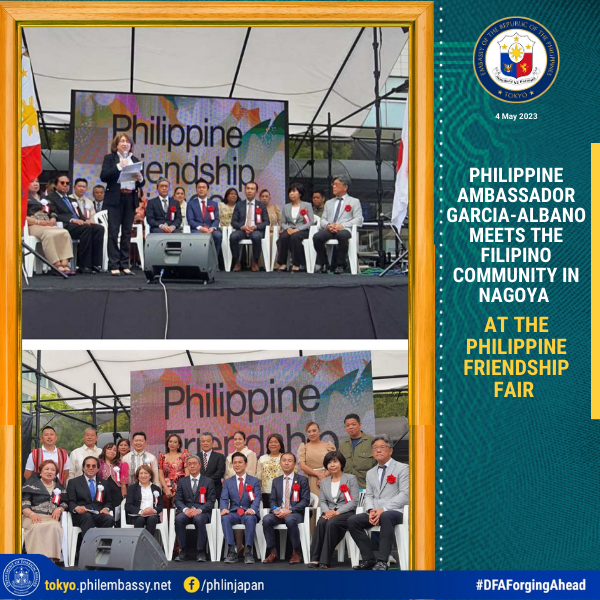 Ambassador Mylene J. Garcia-Albano was a guest of honor at the Philippine Friendship Fair of the Chubu Philippine Friendship Association on 29 April 2023. It was the Ambassador's first opportunity to meet and address the Filipino community in Nagoya, Japan. Officials of the Philippine Consulate General in Nagoya, led by Acting Head of Post and Deputy Consul General Jerome John O. Castro, also attended the Fair as special guests.
Officials such as Mr. NarutoshiKimata, Director of the International Division of the Aichi Prefectural Government, Mr. DoppoSaji, Director General of the Bureau of Tourism, Culture and Exchange of Nagoya City, and Ms, Sayuri Jinnai, Executive Director of the Aichi International Association also joined the festivities.
In her message, Ambassador Garcia-Albano shared that, "Events such as this provide a venue to feature the Philippines in various ways, from the program to the booths presenting our country's culture, products, and services."
It was also shared that there are milestone commemorations this year 2023, such as the celebration of the 50th Anniversary of the Friendship and Cooperation of Japan and ASEAN, to which the Philippines is a member, and the 125th Anniversary of the Proclamation of Philippine Independence this June.
The Ambassador also assured the Filipinos that the Philippine Embassy in Tokyo, together with the Consulates General in Nagoya and Osaka will continue to support and provide assistance and services to the Filipino community in Japan.
The Philippine Friendship Fair is an annual event organized by the Chubu Philippine Friendship Association led by its Chairperson, Ms. Linda Taki, and President, Ms. Abigail Capitin – Principe.