Just International Order is Basis for Future Regional Stability and Growth, Secretary Albert Del Rosario Emphasizes at 19th Nikkei Future of Asia Conference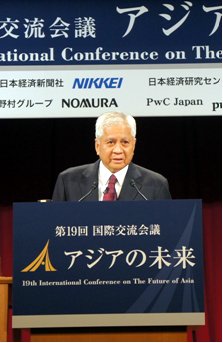 24 May 2013 – Asia's future dynamism rests on the region's ability to build mutually-beneficial partnerships under a just international order. This was the central message of Philippine Foreign Secretary Albert F. del Rosario's well-received address at the two-day 19th Nikkei Future of Asia Conference in Tokyo at the Imperial Hotel in Tokyo yesterday.
"The future will not simply unfold to our benefit. We need to actively shape international affairs. We have to build a solid basis upon which regional stability, political and economic integration, and growth may proceed unimpeded", said the Philippines' top diplomat.
He challenged the region to actively shape the future, on the basis of a universal adherence to the principles of democracy, freedom, peace, security, human rights and the rule of law.
Secretary del Rosario said these values and principles also guide and permeate Philippine foreign policy. He cited the Philippines' active espousal of the rule of law in the international arena, as illustrated by the Philippines' arbitral proceedings against China's over-extended claim and unlawful actions in the West Philippine Sea. He said this legal track embodied the Philippines' resolve to "seek not just any kind of resolution, but a just and durable one, grounded on international law.
The Secretary cautioned that unless a rules-based resolution is achieved, "status quo will favour military and economic might, and diplomacy will veer towards appeasement, which undermines any attempt to build a system based on equity and rules."
Secretary del Rosario cited the Aquino Administration's own commitment to these principles under the dictum of "good governance is good economics", as the driving force behind the unfolding Philippine economic success story.
He underscored the Philippine Government's determined efforts to forge ahead with reforms and measures to boost competitiveness and job creation, in order to sustain the Philippines' economic dynamism, which has been drawing the attention of international investors and which has earned the country consecutive credit rating upgrades.
Concluding on a positive note, the Secretary noted ASEAN's progress in attaining 2015 timetable for the establishment of the ASEAN Community as well as the organization's leading role in shaping the evolving security architecture. The Secretary expressed his hope that the region would be able to define paradigms and conditions that would sustain its rise to political and economic global ascendancy.
Established in 1995, the Nikkei Future of Asia conference is regarded Asia's premier foreign policy forum. Apart from Secretary del Rosario, the 19th Nikkei conference featured Singapore PM Lee Hsien Loong, Thai PM Yingluck Shinawatra, Japanese FM Fumio Kishida and Bank of Japan Governor Haruhiko Kuroda Governor. This year's speakers addressed the theme "Asia's Search for Steps toward Stronger Ties and Integration".