Ambassador Garcia-Albano Joins Davao City In Promoting Investment and Tourism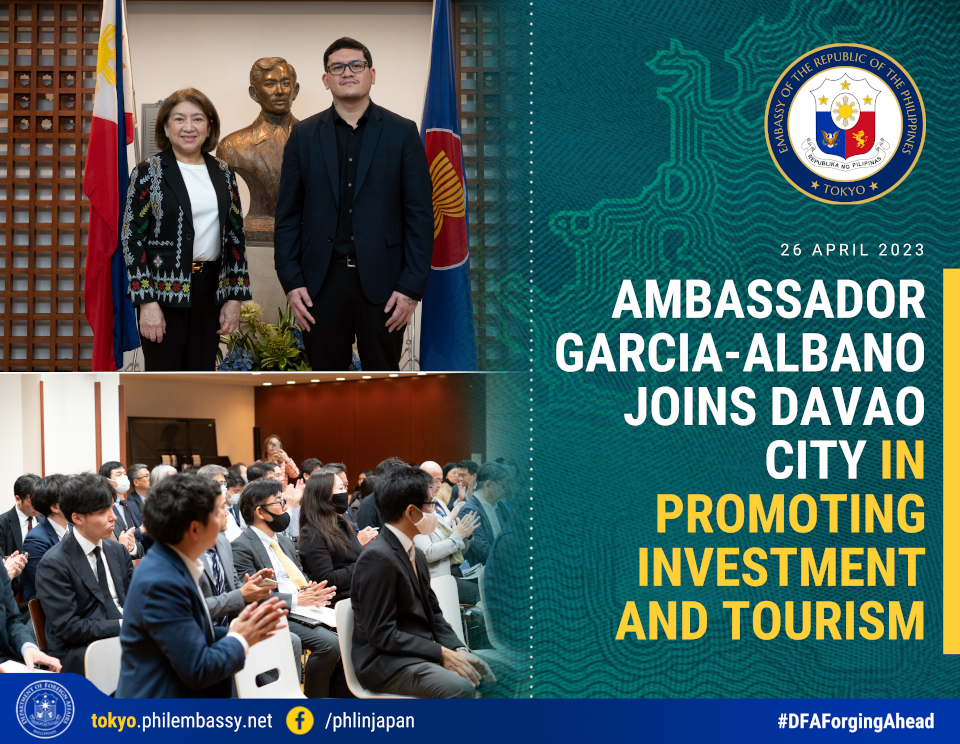 26 April 2023 – Ambassador Mylene J. Garcia Albano highlighted Davao City's promise as an investment and tourism destination of choice during the "Davao Tokyo Business Forum" organized by PTIC-Tokyo, in cooperation with the Philippine Embassy, DOT-Tokyo and DA-Japan.
In her opening remarks, Ambassador Garcia-Albano said that, "Davao City is your gateway to southern Philippines, where you can ride the waves of opportunities brought about by the Philippines' growth trajectory in a still recovering post-pandemic world," citing IMF's upward revision to 6% of its GDP growth forecast for the Philippines, outpacing other Asian economies, as well as the economic benefits that can be gained once the RCEP takes effect in the Philippines in June 2023.
Ambassador Garcia-Albano also highlighted that 2023 marks the 120th anniversary of the migration of the Japanese in the Philippines since 1903, tens of thousands of whom settled in Davao, adding, "this cultural and deep connection provides fertile ground for more seeds of friendship to grow between our peoples, including through trade, investment and tourism."
During the business forum, Davao City officials presented about Davao City's economic overview, market prospects, doing business and investments incentives, as well as its tourism destinations and attractions. Around 60 representatives from Japanese companies in a wide range of industries participated in the Forum, and expressed keen interest in the investment and tourism opportunities in Davao City.
The Davao City delegation, headed by Mayor Sebastian Z. Duterte, is on a 4-day investment and tourism roadshow in Japan, with itineraries in both Osaka and Tokyo. Also included in the delegation are private sector representatives from the agri-business, food products, education, and property development sectors.