Ambassador Garcia-Albano Hosts Culinary Journey of the Philippines with Award-Winning Chef Margarita Forés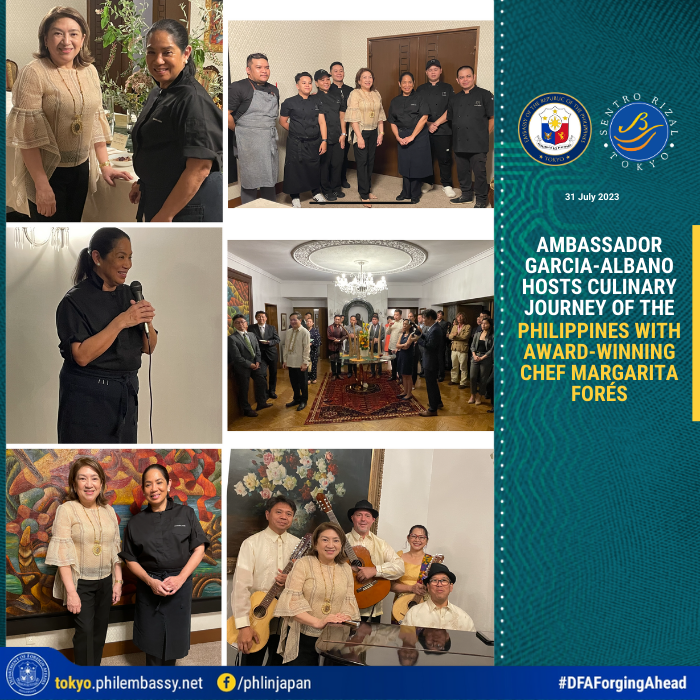 On 29 July 2023, the Philippine Embassy celebrated the 67th Anniversary of the Normalization of Diplomatic Relations between the Philippines and Japan by treating Japanese and foreign guests to a delectable culinary journey of the Philippines prepared by renowned Filipino Chef, Margarita Forés and her team of chefs from the Philippines at Kudan, the Philippine Ambassador's official residence.
In her welcome remarks, Ambassador Mylene J. Garcia-Albano noted that 2023 marks "the 67th year of the Philippines' bilateral relationship with Japan. We hope to build on what has been called as the "golden age" of Philippines – Japan friendship with more engagements and cooperation in various fields, including our people-to-people exchanges and connections." The Ambassador shared that food has always an integral part of the warm welcome and great hospitality that Filipinos are known for around the world and expressed the hope that the guests will all have the chance to experience this firsthand by visiting the Philippines in the future.
Chef Forés and her team delighted the guests by serving dishes inspired by the various provinces in Luzon, Visayas, and Mindanao. Chef Forés infused her creations with Japanese elements and ingredients as a nod to the 67th anniversary of Philippines-Japan ties. Dishes from Davao were prominently featured in the menu to commemorate the 120th Anniversary of the first migration of Japanese nationals to Davao.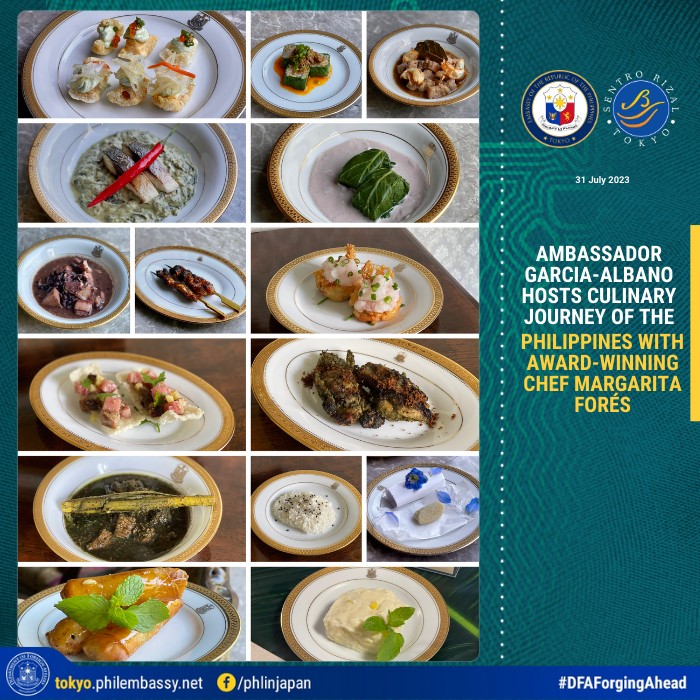 Among the featured dishes were the the classic pork adobo, Bicol's laing, Iloilo's kadyos, Bacolod's chicken inasal, Mindanao's Sinuglaw, Pyanggang, and Tiyulaitum.
Chef Forés is a pioneer in the Philippine culinary community and was recognized as Asia's Best Female Chef by the World's 50 Best Restaurants in 2016. She is a restaurateur and owner of several restaurants in the Philippines. She is an Ambassador for Gastronomy Tourism and has served world leaders, including Japan's Emperor Emeritus Akihito and Empress Michiko and former United States President Barack Obama. She is a well-loved celebrity chef who hosts several shows in the Philippines. She was awarded with the order of The Star of Italy by the Italian Government.
This event was made possible with the generous support and cooperation of the Philippine National Commission for Culture and the Arts (NCCA).