Ambassador Garcia-Albano Engages with Filipino Community in Hokkaido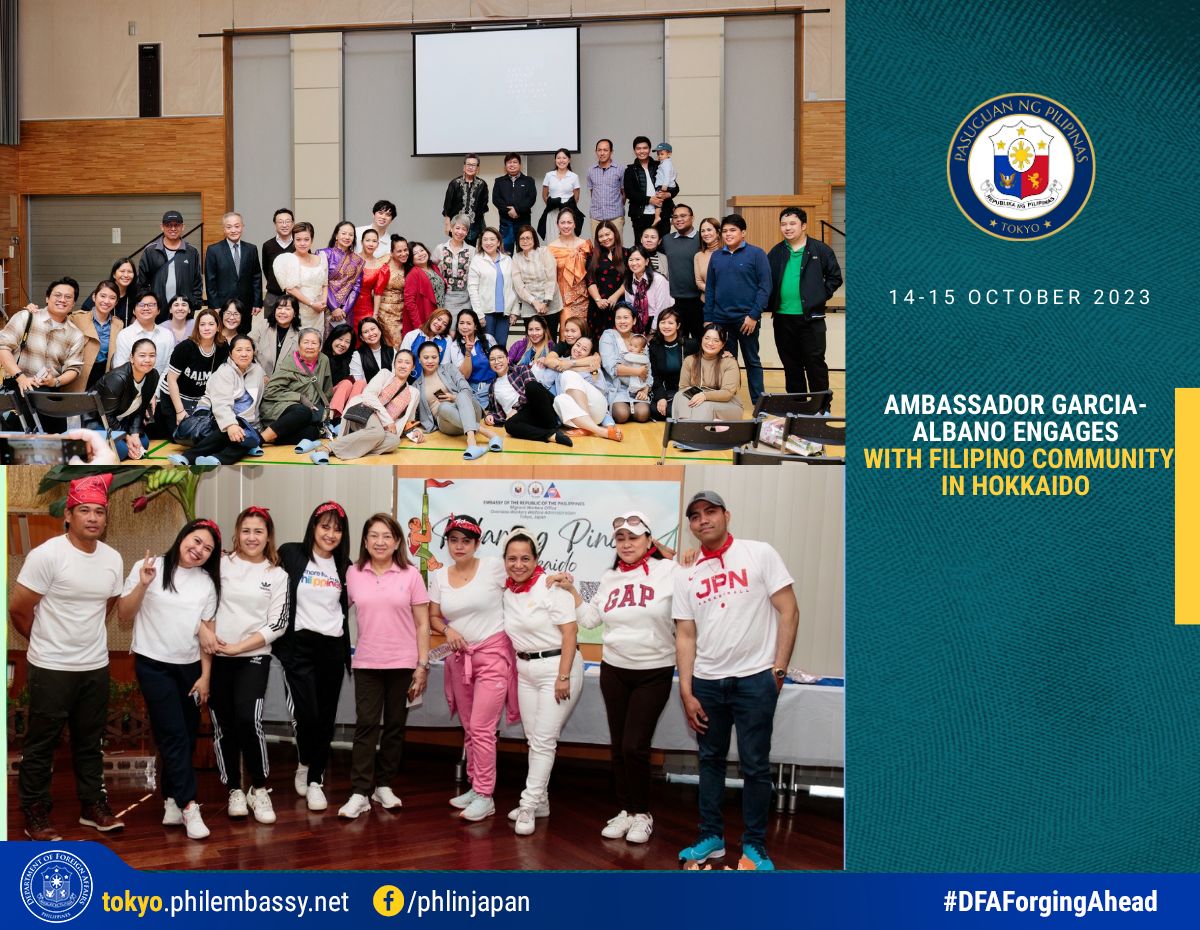 Ambassador Mylene J. Garcia-Albano visited Japan's northernmost prefecture of Hokkaido on 14-15 October 2023 to engage with local leaders and the Filipino community.
During her visit to Sapporo, the capital city of Hokkaido, Ambassador Garcia-Albano joined the Filipino community in a celebration of Filipino dances and songs. The event showcased the talent and grace of Filipino performers and highlighted the vibrant cultural diversity within the Filipino community in Hokkaido.
In her remarks during the program, Ambassador Garcia-Albano expressed gratitude and appreciation for the warm hospitality extended to her by the community. She also paid tribute to Consul General Ken Luis Tobe, a.h., for his selfless service to the Philippine Government and his promotion of the cultural ties between the Japanese and Filipino people. Lastly, she thanked Ms. Emily Ishiwata, Director of Hokkaido Foreign Resident Support Center, and Mr. Hiroaki Hiraki, Vice President of the International Community Bureau, for their constant support to the more than 2,500 Filipinos residing in the prefecture.
At the end of the program, the members of Samahang Pilipino sa Hokkaido were given the opportunity to ask questions. Ambassador Garcia-Albano acknowledged the concerns of the attendees, which ranged from employment to adoption issues, and informed them of the actions taken by the Philippine Embassy in Tokyo (Tokyo PE) to address these matters.
Continuing her engagement with the Filipino community, Ambassador Garcia-Albano graced the Palarong Pinoy sa Hokkaido organized by the Migrant Workers' Office-Tokyo.
She applauded the sportsmanship displayed by the teams and reaffirmed the power of sports to foster camaraderie among the different age groups in the Filipino community.
Ambassador Garcia-Albano's visit to Hokkaido coincided with the annual consular outreach mission where Tokyo PE rendered 110 consular services and registered 51 overseas voters.