8 New Mochi Flavors Introduced in the "Philippines x Mochi Town Ichinoseki" Event
6 March 2023 – Philippine Ambassador Mylene J. Garcia-Albano with other officials of the Philippine Embassy attended the press launch of the "Philippines x Mochi Town Ichinoseki" event held at Jingumae, Shibuya-Ward, Tokyo on 2 March 2023. The food event highlighted Filipino dishes complemented with Ichinoseki mochi.
Mochi is a popular product and part of the food culture of the City of Ichinoseki. It is said that there are more than 300 different flavors of mochi in this city. Eight new flavors inspired by Filipino dishes were introduced during the event. The attendees were treated to mochi flavors such as coconut cream pumpkin mochi croquettes, beef "pares" with roasted mochi, "palitaw" (big round flat bottom mochi), purple yam chewy cookies, pork meat balls and yakimochi skewers in 3 different "adobo" sauce varieties, "tortang talong topped with mochi cheese and mango chili sauce, fried cheese and mochi spring rolls, and floating mochi in toasted coconut milk curd and jackfruit sauce. Philippine products like "calamansi" drinks were also available during the event.
In her message, Ambassador Garcia-Albano congratulated the organizers of the event as well as the four Filipino chefs in Japan who created the 8 delicious dishes. They are Chef Mareve Inomata, Chef Loida Oris Ozaki, Chef Jan "Mickey" Alca, Chef Catherine Aratake. The Ambassador mentioned that the event provided an opportunity for the attendees to learn more about the Philippines through its food.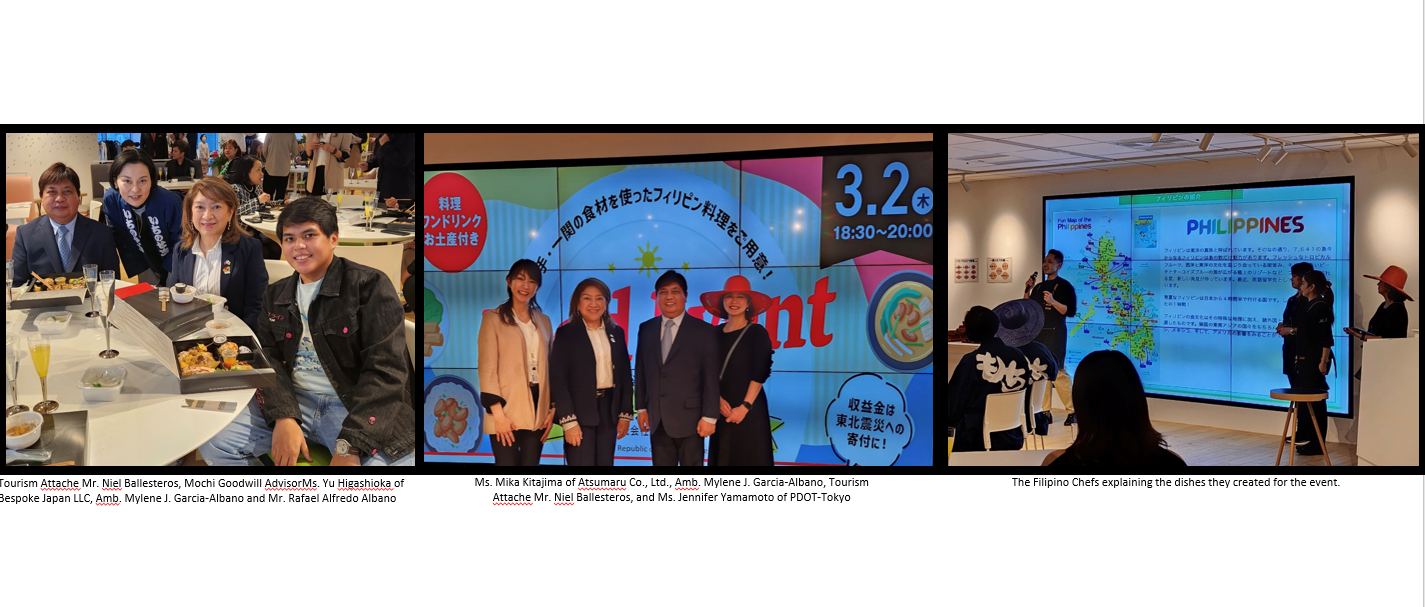 The "Philippines x Mochi Town Ichinoseki" event was a project of Mr. Kazuma Matsumoto of Ihatov Tohoku in collaboration with the Philippine Embassy's Tourism Section. The proceeds of the event will be donated to the victims of the Great East Japan earthquake in Tohoku.