The Philippines Officially Receives Chairmanship of the ASEAN Committee in Tokyo from Myanmar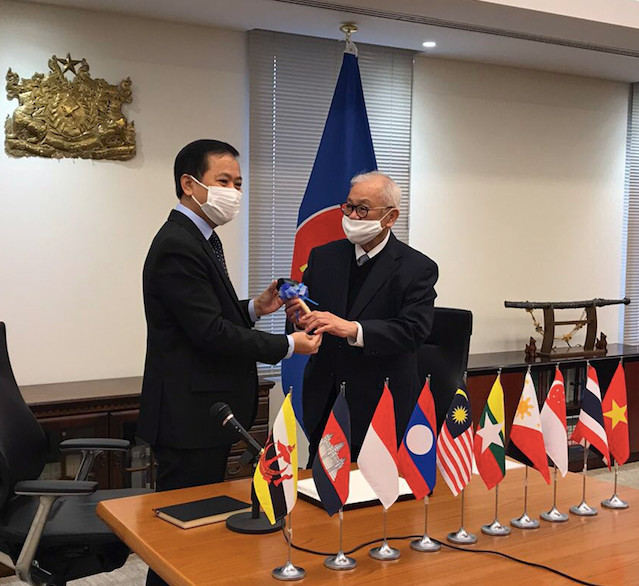 29 January 2021 – H.E. Mr. Soe Han (left), Ambassador of Myanmar, handed over the symbolic chairman's gavel to officially transfer the Chairmanship of the ASEAN Committee in Tokyo (ACT) to H.E. Mr. Jose C. Laurel V (right), Ambassador of the Philippines, during a brief ceremony held at the Embassy of Myanmar on 28 January 2021.

Following the current COVID-19 health protocols, only the two Ambassadors met at the Embassy while the rest of the ACT members joined the ceremony virtually. In his remarks, Ambassador Laurel said, "We are very happy that we are receiving the ACT Chairmanship in the year in which we are celebrating the 65th Anniversary of the Normalization of Diplomatic Relations of the Philippines and Japan. In this regard, we are very honored to take on this Chairmanship. We will work hard to continue our collaboration and our active dialogue in ACT."
The other ACT members congratulated the outgoing ACT Chair, Ambassador Han, as Myanmar ended its term last December 2020. They also extended their messages of strong support to Ambassador Laurel as the Philippines takes on the ACT Chairmanship from January to June 2021.