The Philippine Embassy in Tokyo Observes National Peace Consciousness Month and International Peace Day
21 September 2021 – In collaboration with the Office of the Presidential Adviser on the Peace Process (OPAPP), the Philippine Embassy in Tokyo observed the National Peace Consciousness Month and International Peace Day with a lecture on the subject "Bangsamoro and National Development". The lecture was presented by OPAPP Spokesperson, Assistant Secretary Wilben M. Mayor.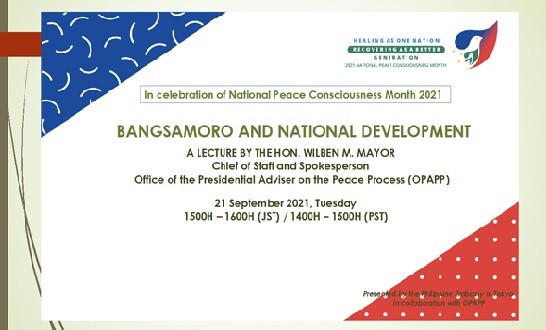 Aiming to present the approaches of and current developments in the peace process and the establishment of the Bangsamoro Autonomous Region Muslim Mindanao (BARMM), the lecture provided insight into the complex dimensions and tracks pursued to attain sustainable peace and development in the Philippines, and underlined the importance of multiple stakeholder involvement. Assistant Secretary Mayor also highlighted the role that Japan plays in supporting the Mindanao Peace Process. This year, the Philippines and Japan are celebrating the 65th anniversary of the normalization of diplomatic relations, and the 10th year of the bilateral Strategic Partnership.
In his remarks, Ambassador Jose C. Laurel V underscored the importance of peace in achieving a more secure and economically progressive country. He cited the example of Japan, who, after the war, provided prosperity and quality of life to its citizens. "Like Japan post World War II, the Philippines, and in this instance BARMM, is on the path to consolidate peace and development", Ambassador Laurel added.
Every September of each year, the Philippine Government celebrates the National Peace Consciousness Month pursuant to Presidential Proclamation No. 675 of 2004. The Proclamation encourages all government agencies and instrumentalities to initiate and participate in relevant and meaningful activities in celebration of the National Peace Consciousness Month, "to instill greater consciousness and understanding among the Filipino people of the comprehensive peace process and the Culture of Peace agenda"