The Philippine Embassy in Tokyo Holds An Online Lecture On The Blue Economy To Celebrate The Maritime and Archipelagic Nation Awareness Month (MANA MO)
29 September 2021 – The blue economy, its basic concepts, evolution, trends and challenges of sustainability, was the focus of an online lecture organized by the Philippine Embassy in Tokyo in collaboration with the Ocean Policy Research Institute, Sasakawa Peace Foundation's Senior Research Fellow Professor KOBAYASHI Masanori. Entitled "Understanding the Blue Economy", discussions revolved around the basic elements of and the interconnections among sectors of the blue economy.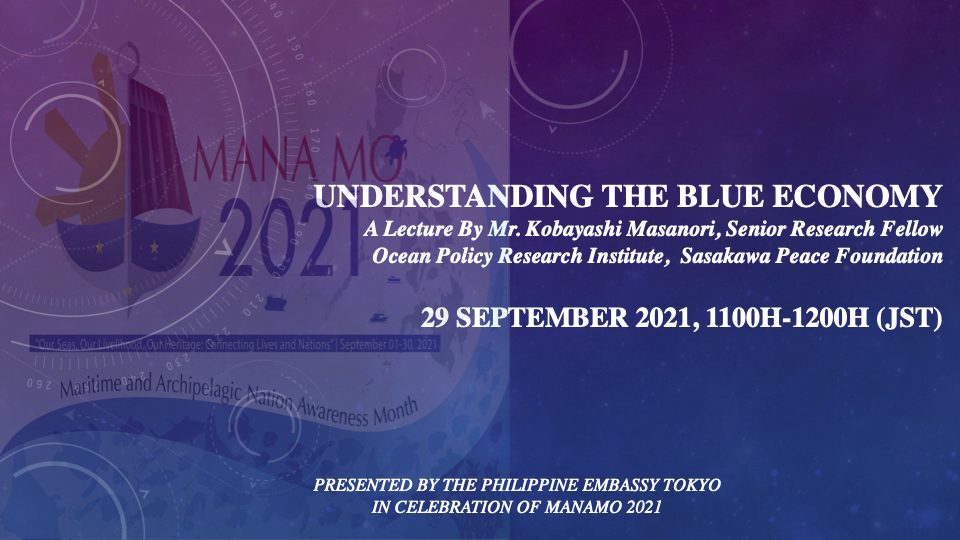 Professor Kobayashi scanned the current work around SDG 14, its importance to other SDGs, individual and global efforts to promote the sustainable use of the ocean and country-specific cases on blue economy concerns and approaches,. He spoke of interlocking measures of governments and the private sector, of the marine ecosystem and the ocean industry, frameworks of cooperation, local efforts that support global norms and international instruments, and the need to look into the nexus of policy, science and innovation.
He spoke of the experience of Japan in fisheries, energy, marine protection, tourism, grassroots action and policy making. He presented case studies on coastal management, financing and energy from third countries.
Ambassador Jose C. Laurel V, in his opening remarks, emphasized the importance of the oceans surrounding the Philippine archipelago, how it provides not only livelihood for Filipinos, but also connectivity that undergirds prosperity for all.
The Philippine Embassy in Tokyo organized the webinar as one of its commemorative activities for the Maritime and Archipelagic Nation Awareness Month or MANA Mo, observed every September to strengthen public awareness of the importance of the Philippine maritime heritage. The Philippines and Japan, both maritime nations, recognize the need for the sustainable use of the ocean and marine resources.