The Philippine Embassy Celebrates 2022 National Heritage Month with a Donation of Philippine Books to Students of Tokyo University of Foreign Studies
13 May 2022 – Ambassador Jose C. Laurel V led the donation of Philippine books to the students of the Tokyo University of Foreign Studies (TUFS). The two students that attended the event are Mr. Ayato Kemmochi, representative of the TUFS Philippine Studies students and Ms. Mahiro Tokue, representative of the TUFS Philippine Cultural Dance Troupe of the University.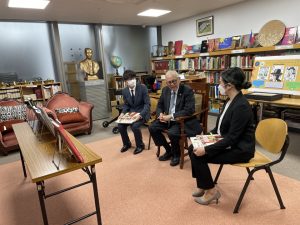 The Philippines celebrates its National Heritage Month in May. This year, the theme is "PAMANANG LOKAL: Binhi ng Kulturang Pilipino." In his message to the students, Ambassador Laurel mentioned that, "It is our hope that just like the theme I mentioned, we are sowing the seeds for your inspiration, so that your interest in the Philippines would further grow. It is also our hope that after reading the books, you would also be able visit the Philippines in the future with your family and friends. I hope you would have opportunities to experience what you have read firsthand and be welcomed by the warm smiles and hospitality of the Filipinos."
The Philippine Embassy is sharing books about Philippine history, clothing, art, and culture. Most of the books are from the Philippines' Cultural Center of the Philippines. The Philippine Embassy hopes to promote and share information about the country, its culture and heritage, not only with the cultural dance troupe and the current Philippine Studies students, as well as the succeeding batches of students of the University in the future.