Senate President Pro-Tempore Franklin M. Drilon Conferred the Grand Cordon of the Order of the Rising Sun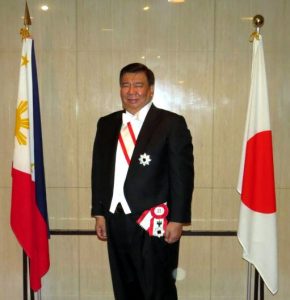 Tokyo, Japan — The Government of Japan has conferred the Grand Cordon of the Order of the Rising Sun on Senate President Pro-Tempore Franklin M. Drilon for his contributions to strengthening relations and promoting friendly relations between Japan and the Philippines.
The decoration was bestowed on the Senator by His Majesty Emperor Akihito, in solemn Autumn Conferment Ceremonies held today at the Imperial Palace in Tokyo. Also in attendance was Japanese Prime Minister Shinzo Abe, who presented the official certificate accompanying the decoration.
Senator Drilon joined five other distinguished non-Japanese Grand Cordon awardees, who included former Speaker of the U.S. House of Representatives John Boehner, former ROK Minister of Foreign Affairs Han Sung-joo, and Speaker Karu Jayasuriya of the Sri Lankan Parliament.
Senator Drilon is currently President of the Philippine-Japan Parliamentarians' Association (PJPA), a post to which he was first elected in 2011. In this capacity, Senator Drilon has championed the advancement of Philippine-Japan ties in and outside the halls of the Philippine Congress, and has been at the forefront of cultivating strong inter-parliamentary cooperation with key members of the National Diet of Japan, particularly those affiliated with the Japan-Philippines Parliamentarians' Friendship League (JPPFL), the PJPA's counterpart.
"I am deeply honored and humbled by this recognition. This award is a testament to Japan and the Philippine's strong relation that is rooted on mutual understanding, respect and cooperation," affirmed Senator Drilon. "I will continue to take an active role in maintaining and strengthening close relations between the Philippines and Japan."
Established in April 1875, the Order of the Rising Sun was Japan's first official decoration and its creation marked the institution of Japan's honors system. It remains one of its highest honors, and the principal decoration awarded to foreign nationals who had contributed to Japan's relations with other countries. It is presently awarded in six ranks, with the Grand Cordon being the highest.
Chargé d'Affaires Ms. Marian Jocelyn R. Tirol-Ignacio welcomed the Japanese Government's conferment of this important honor to Senator Drilon. "The Embassy of the Philippines in Tokyo offers its warmest felicitations to the Honorable Senate President Pro-Tempore and his family on this important occasion", said CDA Tirol-Ignacio. "In honoring Senator Drilon, Japan also honors the close ties of friendship and cooperation that bind our two countries. As such, this adds further significance to our ongoing celebration of the 60th anniversary of the normalization of Philippine-Japan relations."
The Philippines and Japan elevated their relations to a Strategic Partnership in 2011. Japan remains the Philippines' top trade partner and export market and source of official development assistance. It is also a leading source of FDI and foreign tourists into the Philippines.
END