Philippine Embassy-led Team Successfully Repatriates 445 Filipinos from Diamond Princess Cruise Ship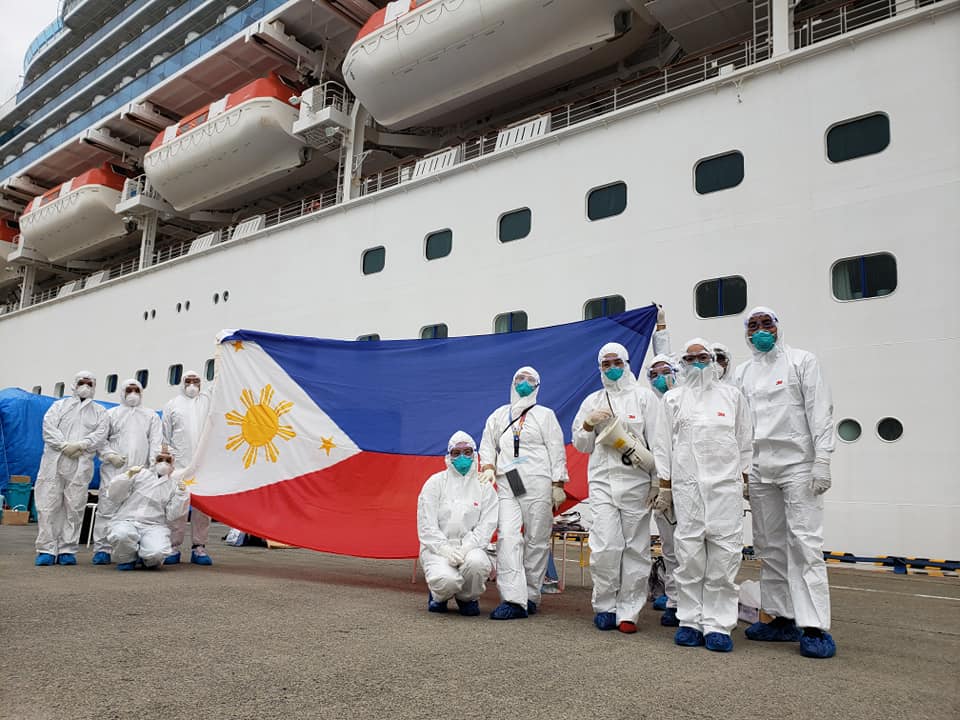 25 February 2020 – The Philippine Embassy in Tokyo is pleased to report that a composite team from the Embassy and the Department of Health successfully repatriated 445 Filipino crew and passengers from the Diamond Princess on February 25.
Two charter aircraft ferried the Filipino repatriates from Tokyo to the Philippines. The aircraft departed from Haneda Airport on the evening of February 25.
There were a total of 538 Filipino crew and passengers onboard the cruise ship. Of this number, 80 tested positive for COVID-19 and have been admitted to Japanese hospitals.
As of February 25, 9 crew members have been successfully treated and discharged from the hospitals with clean bills of health. The Embassy Team has been constantly monitoring the health and well-being of Filipinos who were taken to hospital and coordinating with the Japanese Ministries of Health, Labor and Welfare (MHLW) and Foreign Affairs (MOFA), as well as the team from Princess Cruises regarding their discharge from the hospital and return to the Philippines.
The Embassy has been planning and coordinating the logistics of the repatriation from the time the Diamond Princess was quarantined at the Yokohama Port. Over the course of the 14-day quarantine period, the Embassy assisted all Filipinos onboard the vessel by regularly communicating with them and ensuring that their concerns are addressed. The Embassy also sent them care packages containing toiletries and non-medical supplies. The Embassy Team had been constantly coordinating with the MHLW, MOFA and Princess Cruises to check on the health of the crew and passengers prior to disembarkation. The Team worked very closely with Japanese immigration and quarantine officials and the Japan Self Defense Forces to ensure their safe transfer to Haneda Airport. The Team also worked with the MOFA, the Japanese Transport Ministry and Philippine Airlines to secure landing and departure slots at Haneda and facilitate the immigration clearances, boarding and departure of all 445 crew and passengers.
Composite teams from the Embassy (composed of personnel from the DFA, POLO-OWWA, and DND) and DOH were on the ground at the Yokohama Port and Haneda Airport on February 25 to assist in the disembarkation of the crew from the ship and boarding them onto the two charter flights.
The Diamond Princess cruise ship has been quarantined at the Port of Yokohama since February 5, after one of its passengers tested positive for COVID-19. Passengers were allowed to disembark from February 19 onwards at the end of the 14-day quarantine period. Crew members began disembarking after all the passengers left the ship.