Philippine Embassy Joins Filipinos in Michikoto Parishes For 9th FilCom Day, Conducts OAV Registration and Labor Outreach Mission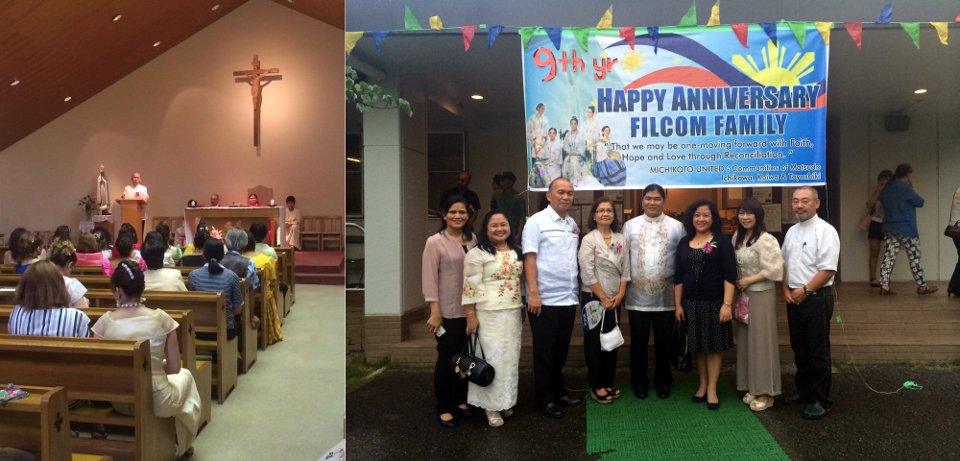 29 June 2014 – Philippine Embassy officials reached out to the Filipinos in four church communities who gathered at the Toyoshiki Catholic Church in Chiba Prefecture to celebrate their 9th Filipino Community Day. The FILCOM Day was an opportunity for the Embassy to directly communicate with the Filipinos in the Catholic Church communities of Matsudo, Ichikawa, Koiwa and Toyoshiki (MICHIKOTO) and conduct registration for the Overseas Absentee Voting (OAV) as well as respond to inquiries on the benefits under Philippine labor laws and extend consular/labor assistance.
Chargé d' Affaires (CDA) and Deputy Chief of Mission Gilberto Asuque (right photo, 3rd from left) led the Embassy team composed of Ms. Andrea Leycano (right photo, 3rd from right), Consul and Head of OAV Team; Acting Attaché of the Philippine Overseas Labor Office (POLO) Ms. Liwayway Ilo (right photo, 2nd from left), Ms. Gemma Dio (right photo, 1st from left), POLO Assistant; and Mr. Reynaldo Damgo, Embassy staff (not in photo).
The 9TH FILCOM Day commenced with the celebration of the Holy Mass by Rev. Fr. Philip Ilio Bonifacio, SSC (left photo and right photo, center), Parish Priest of the Matsudo Catholic Church and Chaplain of the MICHIKOTO Filipino communities and Rev. Fr. Yasuo Ignatio de Loyola Watanabe (right photo, 1st from right), Parish Priest of the Toyoshiki Catholic Church, host of the event (photo below).