Philippine Embassy in Tokyo Reaches Out To Almost 20,000 Filipinos In Japan Through Covid-19 Briefing
The Philippine Embassy in Tokyo reached out to almost 20,000 Filipinos in Japan on 02 October 2020 to discuss the COVID-19 situation in Japan, its effects on the Filipino community, and the Embassy's assistance to Filipinos affected by the pandemic.
The Embassy's Chargé d'affaires, Robespierre L. Bolivar, was a guest at the Laging Handa Press Briefing organized by the Presidential Communications Operations Office (PCOO) and the People's Television Network (PTV4), where he noted that the Embassy has been open to the public since June 2020, even while the COVID-19 infection rate, especially in Tokyo, remains high. He further stated that the Embassy's emergency services have been operational round-the-clock even during the period when Japan's state of emergency was in effect.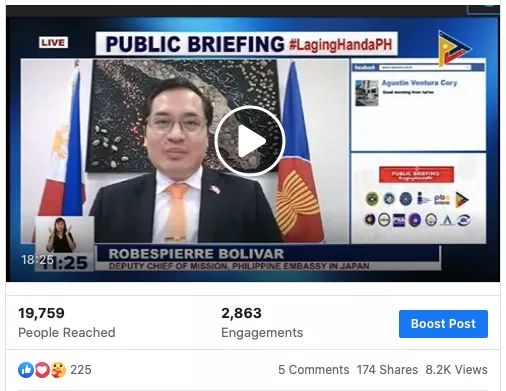 He emphasized that while the Government of Japan has eased travel restrictions beginning October 1st, tourists are not yet allowed into Japan. He stated that only Filipinos who are long-term residents of Japan, or who have host agencies in the country who will guarantee their stay are allowed to travel into Japan at this time.
Chargé d'affaires Bolivar reported that the Embassy has been able to repatriate over 1,000 Filipinos stranded in Japan. This number includes the 500 seafarers from the MV Diamond Princess in February, the first-ever massive COVID-related repatriation undertaken by the Philippine Government.
Since then, the Embassy has organized 3 repatriation flights to ferry back home a total of 815 Filipinos stranded in Japan: a batch of 160 stranded individuals on June 1st; a flight bearing 204 passengers, some coming from as far as Okinawa; and a flight co-organized with the Philippine Consulate General in Osaka with over 300 overseas Filipinos in June, including 209 technical intern trainees, and 126 seafarers on board the M/V Costa Atlantica docked in Nagasaki.
Chargé d'affaires Bolivar assured the Filipino community in Japan that the Embassy will continue to deliver efficient and effective public service while continuing to observe COVID-19 prevention protocols. He stated that, "while we are open for business, it is not yet business as usual. We need to balance the need to deliver public service with the need to protect the health and well-being of the applicants. We will need to maintain the appointment system and other COVID-19 prevention measures for the foreseeable future, but we assure the public that we are continuously improving our ability to provide public service in this new normal."
The Embassy may be contacted through these e-mail address: consular@DELphilembassy.net, atn@DELphilembassy.net and phone numbers: (03) 5562 1600, (0081) 80-4928-7979.
Click on this link to watch the PCOO Laging Handa Briefing:
https://www.facebook.com/watch/?v=1010530479360208