Philippine Embassy in Tokyo Personnel Receive DFA Outstanding Employee Award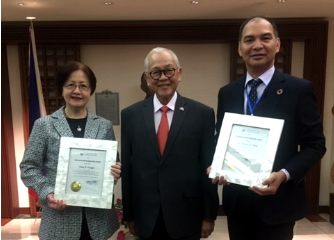 Tokyo, 16 March 2020. H.E. Ambassador Jose C. Laurel V (middle) presented the plaque of citation for the 2019 Outstanding Employee Award to Ms. Guia P. Dangca (left) and Mr. Jose Juancho A. Perez (right) during the flag ceremony at the Philippine Embassy in Tokyo on 16 March 2020. Both Attachés of the Embassy, the two were among the 20 awardees selected by the Department of Foreign Affairs (DFA) in 2019 in recognition of their loyalty, dedication, commitment and exemplary performance of their duties.
The outstanding employee award is a department-level award presented by the DFA during its founding anniversary celebration held annually in Manila. In 2019, the DFA received 80 nominations for the award chosen from among the almost 4,000 personnel of the DFA currently assigned in the various foreign service posts overseas and in the main, consular, and satellite offices in the Philippines.