Leaders of Jisedai No To (Party For Future Generation) Call On Embassy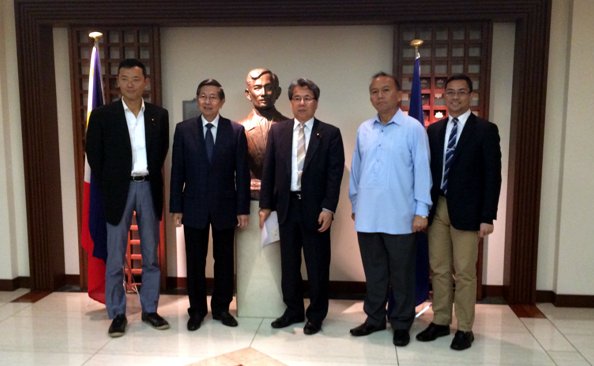 03 October 2014 – Ambassador Manuel M. Lopez received the leaders of the Jisedai no To (Party for Future Generations – PFG) who discussed the vision and mission of the new political party in the Japanese Diet. . The PFG is a new party formed only last 01 August by twenty-two legislators.
Mr. Hiroshi Nakada, Member of the House of Representatives and Chair of Diet Affairs of the PFG, and Dr. Takahito Miyazawa, Member of the House of Representatives and Deputy Secretary-General and Director of International Affairs Bureau of the PFG (photo above, 1st and 3rd L – R) called on the Ambassador following their visit to Manila during the first week of September.
DCM Gilberto Asuque and Minister Josel Ignacio, Political Officer, joined the Ambassador during the call of the PFG congressmen.