Filipino Diplomat in Tokyo Among Finishers of the 2018 Tokyo Marathon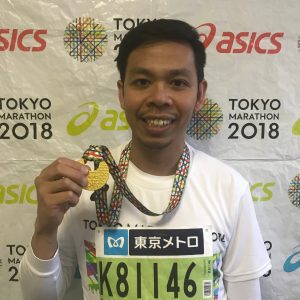 Tokyo, 28 February 2018 – Mr. Reynaldo W. Cahayag Jr., Attaché of the Philippine Embassy in Tokyo, was among the finishers of the 2018 Tokyo Marathon held on 25 February 2018. He posted a net time of four hours, forty four minutes and 49 seconds (4:44:49) to finish the 42.195 kilometers and placed 19,670th overall among the more than 30,000 participants.
By nationality, Mr. Cahayag ranked 31st among 91 Filipino participants. By age, he ranked 2,585th among 4,545 participants in the 35-39 age group. He ranked 16,221st among 26,598 male participants. This was Mr. Cahayag's third time to participate in the Tokyo Marathon. He was also a finisher in 2013 and 2014.
The Tokyo Marathon started in 2007 and joined the Abbott World of Marathon Majors in 2012. The Abbott World Marathon Majors is a series consisting of six of the largest and most renowned marathons in the world. The races take place in Tokyo, Boston, London, Berlin, Chicago, and New York City.