ASEAN and Japan Strengthen Cooperation on Information Security Awareness, Embassy Receives Animations on Smartphone Security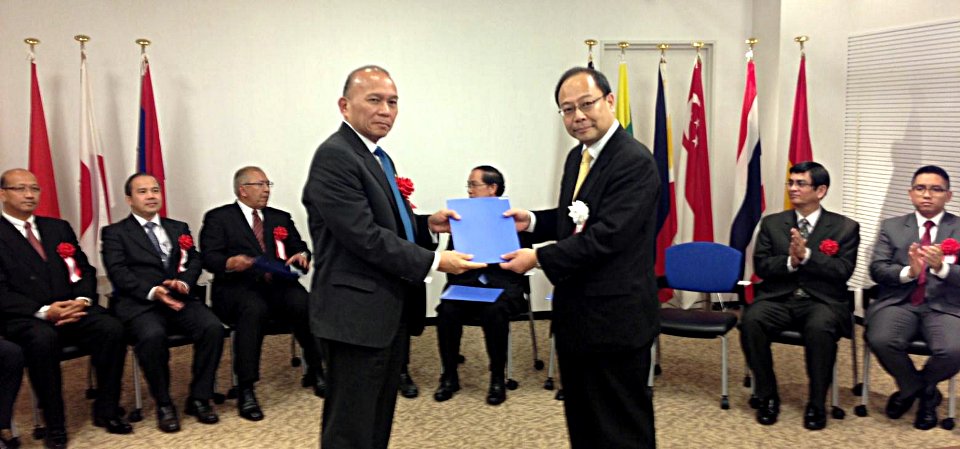 25 April 2014, Tokyo – The ASEAN-Japan cooperation on cyber security entered the next phase of the regional effort to combat cyber threats to internet communication facilities with the distribution to the ten ASEAN members of the animation in the local language of security measures on the use of smart phones.
Deputy Chief of Mission Gilberto G.B. Asuque (top photo, left) received from Mr. Yasuhiko Taniwaki, Deputy Director-General, National Information Security Center (NISC), Cabinet Secretariat the CD containing the animation with Tagalog subtitles of "Be Aware, Secure, and Vigilant – Information Security – Use Your Smartphone with Confidence."
The animation to raise awareness on smartphone security is a joint project of the ASEAN member states and Japan under the framework of the ASEAN-Japan Information Security Policy Meeting initiated in 2009. The information material on cyber security aims to raise the security consciousness of smartphone users against complex and sophisticated cyber-attack techniques and targets thereby protect the internet or communication facilities of governments and private entities that provide administrative, social and economic services.
In the light of the existing close ties and increased investment by Japanese enterprises in ASEAN countries, strengthening ASEAN-Japan cooperation on cyber security is particularly significant in the effort to further develop the economies in the region.
Mr. Taniwaki and Mr. Yoshikuni Ohnishi, Secretary General, ASEAN-Japan Center (photo below, in grey suit), distributed to the ASEAN Ambassadors and Embassy representatives in Tokyo their respective local-language version of the animation on smartphone security during the ASEAN-Japan Information Security Awareness Raising Seminar held on 25 April 2014 at the ASEAN-Japan Center in Tokyo.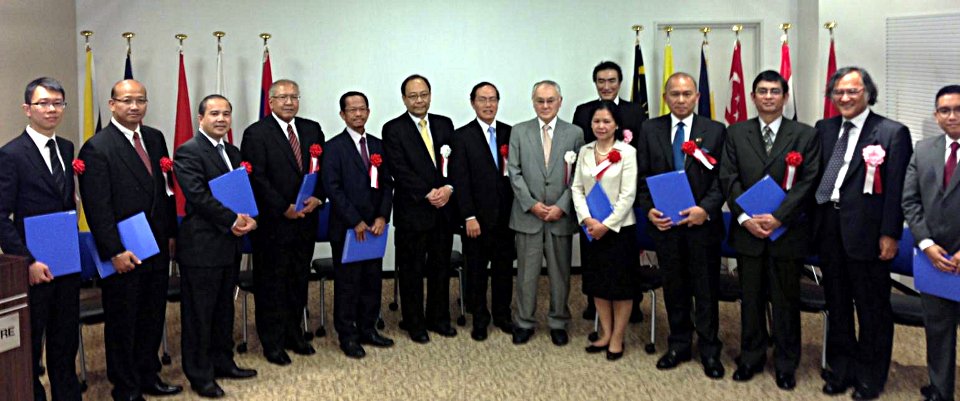 The Seminar was organized by the ASEAN-Japan Center to enhance the understanding for information security and further strengthen cooperation among ASEAN member states and Japan in raising the standards for information security to the global level.
The Embassy has made available to the public the free download of the animation with Tagalog subtitles of "Be Aware, Secure, and Vigilant – Information Security – Use Your Smartphone with Confidence" and the short English animation, which can both be accessed from the Embassy's webpage Quick Link section or directly from the links below.
The animation with Tagalog subtitles was produced with the assistance of the Information and Communications Technology Office of the Department of Science and Technology. The topics in the animation provide information and advice to smartphone users on cyber incidents thereby enhance their confidence in using their smartphones.
The Embassy invites all government agencies, Philippine radio and television networks, concerned private entities and NGOs to download the animations for public showing. Media networks may wish to broadcast the animation with the Tagalog subtitles as part of their programmed info-materials or edit the animation into separate short topics to suit their program requirements.
The wide dissemination of the animations would be the contribution of the Philippines in raising awareness and vigilance against cyber threats and empowering the public especially smartphone users to practice internet data protection and secure their personal information. END
Links to video files:
http://tokyo.philembassy.net/downloads/nisc-tagalog.mp4
http://tokyo.philembassy.net/downloads/nisc-short.mp4