Ambassador Jose C. Laurel V Calls On Parliamentary Vice-Minister For Foreign Affairs Miyake Shingo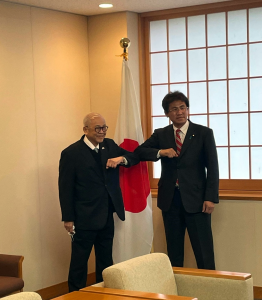 08 December 2021 – Ambassador Jose C. Laurel V called on Parliamentary Vice Minister for Foreign Affairs MIYAKE Shingo to reaffirm their commitment to work together in further strengthening the strategic partnership between the Philippines and Japan.
At the outset, Ambassador Laurel referred to the fruitful outcome of the phone calls between President Rodrigo Roa Duterte and Prime Minister KISHIDA Fumio on 17 November and the phone call of Secretary of Foreign Affairs Teodoro L. Locsin, Jr. and Japanese Foreign Minister HAYASHI Yoshimasa. Ambassador Laurel conveyed his appreciation to the Japanese Government for its continued assistance to the Philippines, particularly on its donation of 3 million doses of vaccines, making Japan the biggest donor of vaccines to the Philippines. He highlighted the achievements of the Duterte Administration in elevating the relations to a higher level, and Japan's role in supporting the growth and development of the Philippines.
Vice-Minister Miyake acknowledged the great contributions of the Ambassador and his family in forging the two countries' cordial and cooperative relations. He expressed his strong desire to collaborate with the Ambassador on areas of cooperation such as on COVID-19, infrastructure development, maritime security and other regional and international issues. He also expressed optimism that the through Japan's Consulates-General in the Philippines, the basis of the two countries' people-to-people exchanges will broaden.
Both officials shared the view that with their long history of friendship, the Philippines-Japan relations will continue to prosper in decades to come.