Notice From The Special Board of Canvassers of Tokyo PE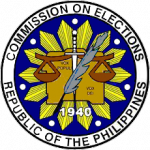 Republic of the Philippines
COMMISSION ON ELECTIONS
COMMITTEE ON OVERSEAS VOTING
Manila
NATIONAL ELECTIONS
May 13, 2013
OVERSEAS VOTING
NOTICE
TOKYO PE / JAPAN
TO:
COMELEC
ALL CANDIDATES & POLITICAL PARTIES FIELDING CANDIDATES FOR SENATOR
ALL POLITICAL PARTIES & ORGANIZATIONS PARTICIPATING IN THE PARTYLIST SYSTEM
Sir / Madam:
Pursuant to the provision of the Omnibus Election Code and Section 7 of COMELEC Resolution No. 9617 promulgated on January 16, 2013, NOTICE is hereby given that the Special Board of Canvassers of Tokyo PE shall convene on May 13, 2013 at 7:00 o'clock in the evening Philippine time at the Philippine Embassy, Tokyo to receive the election returns from the Special Board of Election Inspectors and to immediately canvass those that have already been received.
The Board shall meet continuously from day to day until the canvass is completed, and will adjourn only for the purpose of awaiting other election returns.
Please be guided accordingly.
APRIL 24, 2013
Very truly yours,
Sgd.
Angelica C. Escalona
Chairman
Special Board of Canvassers