Japan War-Bereaved Association Donates JPY453,460 for Victims of Typhoon Yolanda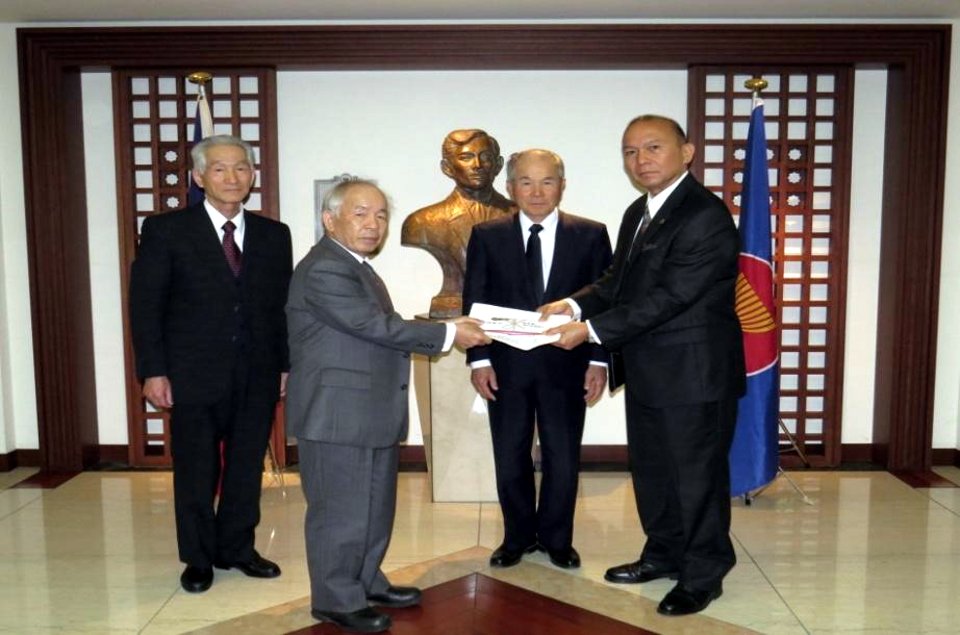 22 April 2014, Tokyo – The Japan War-Bereaved (JWB) Association donates ¥453,460 for the victims of Typhoon Yolanda as they conveyed their concern and support for the survivors and relatives of those who perished in this natural disaster.
Mr. Gilberto G.B. Asuque, Deputy Chief of Mission (DCM), received from Mr. Kenji Amano the donation from the 800-member Shimada City, Shizuoka Prefecture Branch of the JWB Association during simple ceremony at the Embassy lobby. Mr. Shigeo Takeda (left of photo) and Mr. Seiya Kambara (middle) joined Mr. Amano in presenting the donation.
At the meeting with the JWB representatives, DCM Asuque conveyed the sincere appreciation of the Philippine Government especially the people of Leyte for the donation. He said the amount will be remitted to the Department of Social Services and Development to help the survivors of Typhoon Yolanda in Leyte. Assisting DCM Asuque during the meeting is Ms. Marilo Kuroda (right of photo), the Embassy translator/interpreter.
JWB Association is a nationwide association of the surviving families (widows and children) of Japanese soldiers who fought during WWII. The Association is engaged in peace activities such as gathering the ashes of the soldiers and paying homage or organizing pilgrims to war sites of soldiers who lost their lives during WWII.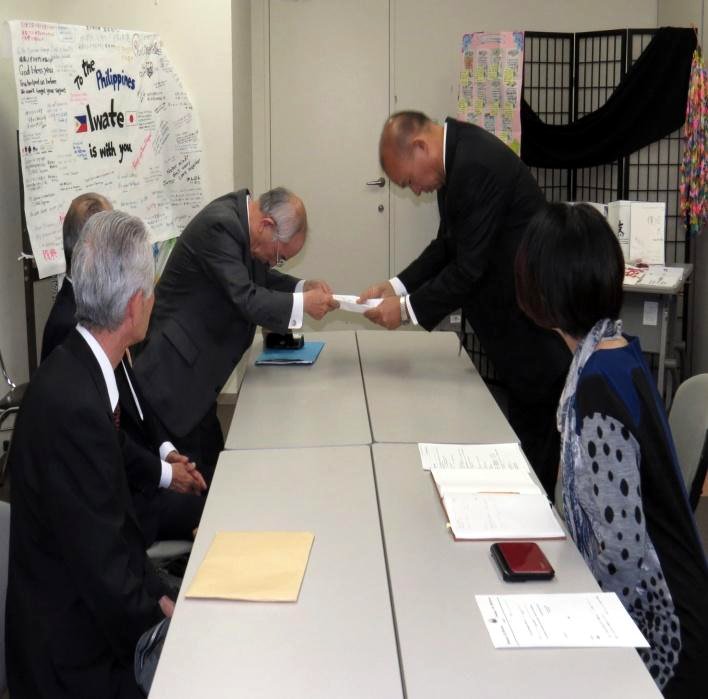 The President of the Shimada Branch, Mr. Keishi Sawawaki, informed the Embassy that he was inspired by the news article in Sankei Simbun of 26 November 2013 regarding the efforts by Leyteneos to maintain, with the financial support of the Japanese Association of Cebu, the memorials for the Japanese war dead located in about 30 sites in Leyte Province. Mr. Sawawaki also said that the Shizuoka branch of the JWB Association already donated ¥1.8 million (including ¥100,000 from the Simada City branch) through the Red Cross for the Yolanda victims.
The ¥453,460 is in addition to the earlier donations and was coursed through the Embassy specifically for the typhoon victims in Leyte. (END)