Bayanihan Performs for 60th Anniversary of Normalization of Philippines-Japan Diplomatic Ties
The Embassy of the Philippines in Tokyo, in partnership with the Japanese non-profit organization Min-On Concert Association, invited the Bayanihan, the National Folk Dance Company of the Philippines, for a cultural performance in the Japanese capital to mark the 60th anniversary of the normalization of diplomatic relations between the Philippines and Japan this year.
Twenty five (25) members of the Bayanihan led by the company's Executive Director Suzie Moya Benitez had a successful performance of traditional Filipino songs and dances at the Nakano Sun Plaza Hall in Tokyo. The 2,000-seat theater was full to capacity with a mostly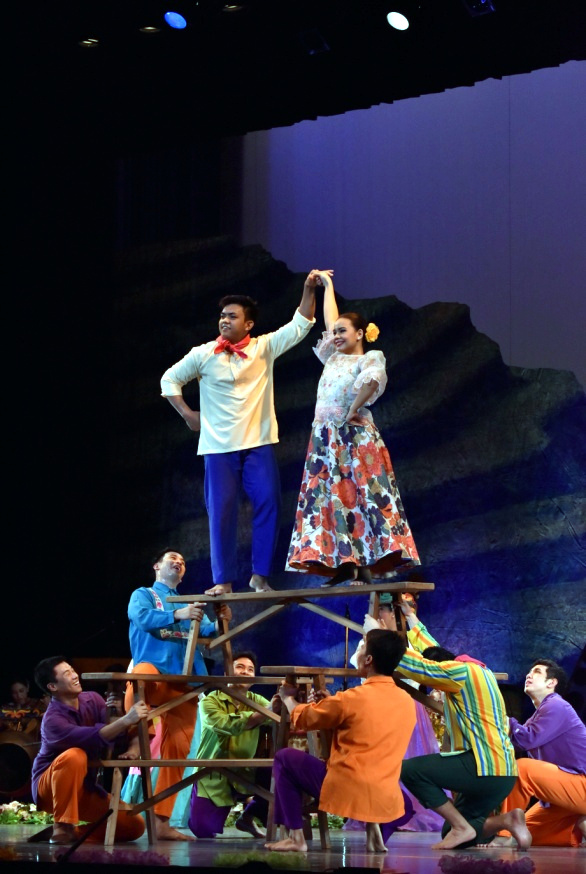 Japanese audience. Among the dignitaries who graced this special performance were Her Imperial Highness Princess Takamado, officials from the Japanese government and members of the diplomatic corps.
Noting that the Bayanihan is the most widely acclaimed Philippine dance group, Philippine Ambassador to Japan Manuel M. Lopez said that it is fitting that they be brought back to Japan for the 60th anniversary of Philippine-Japan diplomatic relations. According to Ambassador Lopez, "One of the best ways to celebrate this milestone with our Japanese friends is through a show that offers a glimpse of Philippine culture and talent at its finest."
The Bayanihan worked with the Min-On Concert Association for several months to come up with a two-hour production that featured the rich diversity of Philippine culture. From dances of the lumad (indigenous people) to suites of songs and dances showing life in the Philippine countryside, Spanish influences in the Philippines, and the exotic traditions of Muslim Mindanano, the Bayanihan impressed the audience with their grace, skill and colorful costumes. In keeping with the Bayanihan style, several members of the audience were asked to try the "Tinikling" (bamboo dance), which they did with great enthusiasm.
In the show's finale, the group sang two Japanese songs. The first song was dedicated to victims of the earthquake in Japan's Kumamoto and Oita Prefectures, a gesture which touched the hearts of many in the audience. The second song, which was meant to celebrate Tokyo's hosting of the Olympics in 2020, ended the event on a bright and optimistic note. (END)