Ambassador Garcia-Albano Advocates the Growth of Local Economies Through Business Networking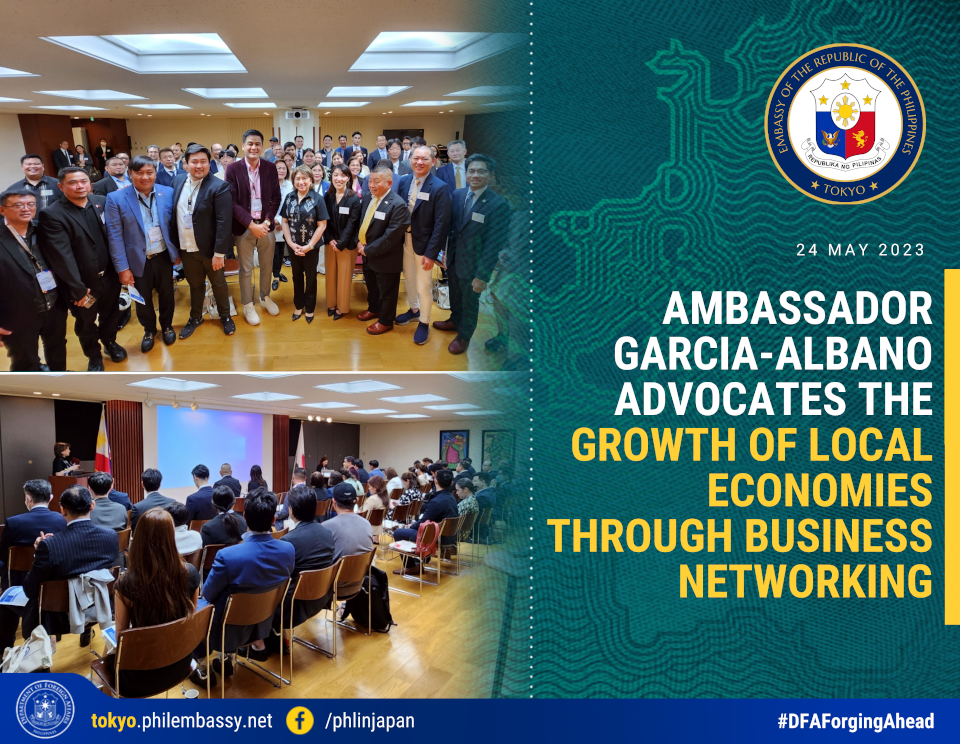 The Philippine Chamber of Commerce in Japan (PCCIJ), in partnership with the Philippine Embassy in Tokyo, organized a business networking event for the delegates of the Union of Local Authorities of the Philippines (ULAP) on May 24, 2023. The event served as a venue for PCCIJ members to know more about the local governments being represented by the delegates, and promote linkages between PCCIJ and ULAP.
Ambassador Mylene J. Garcia-Albano encouraged PCCIJ and ULAP to be bridges that promote engagements between Japanese business and local government units (LGUs) in the Philippines. She acknowledged the critical role of business in promoting economic development in the regions, saying "With proper support from Japanese investors, LGUs can improve their infrastructure, attract more businesses, and create more job opportunities, especially for the rural population. This partnership shows how business networking can drive progress and create value for local economies and communities."
For his part, Quirino Province Governor Dakila Carlo E. Cua, National President of ULAP and National Chairman of the League of Provinces of the Philippines, looked forward to the new partnerships from the networking session, especially as ULAP's mission is to empower LGUs and foster their active participation in nation-building.
On the other hand, Mr. Allan Reyes, PCCIJ Chairman, conveyed his optimism and enthusiasm for the future of Philippines-Japan economic cooperation, and encouraged the participants to explore untapped potential and unlock new horizons for growth.
During the networking session, ULAP presented about the main industries of the provinces of Quirino, Apayao, Dinagat Islands, Isabela, Samar, Siquijor, Southern Leyte, Cavite, Occidental Mindoro, Sulu and Tacloban City, whose local government officials were represented. There were also company introductions, including a presentation by a metaverse company. As part of the program, the participants were given an opportunity to exchange cards and engage in short but meaningful discussions, including on potential investment opportunities.
PCCIJ was established in 1976 and is duly recognized by Japan's Ministry of Economy, Trade and Industry. Its members include both Filipino and Japanese companies, including some which are listed in the Tokyo Stock Exchange. The PCCIJ is committed to bridging the Philippines through commerce, trade and investments.
ULAP is an umbrella organization that brings together various leagues representing local government units (LGUs) in the Philippines. It plays a crucial role in amplifying the unified advocacy of local governments in the Philippines, with more than 62,000 constituent members who are elected government officials.