The Philippine Embassy Highlights the Importance of Peaceto Junior High School Students
The Philippine Embassy in Tokyo welcomed 2nd year students from the Kosei Gakuen Junior High School as they shared their experiences and knowledge about the Philippines gained from their recent visit to Cebu, Manila and Bataan from 22 July to 8 August 2019.
The students reported on various aspects of Filipino culture, history, government and socio-economic conditions through the creative use of presentation materials. Each student shared what was most impactful and meaningful to them, including similarities and differences with Japanese culture, traditions, and ways of life.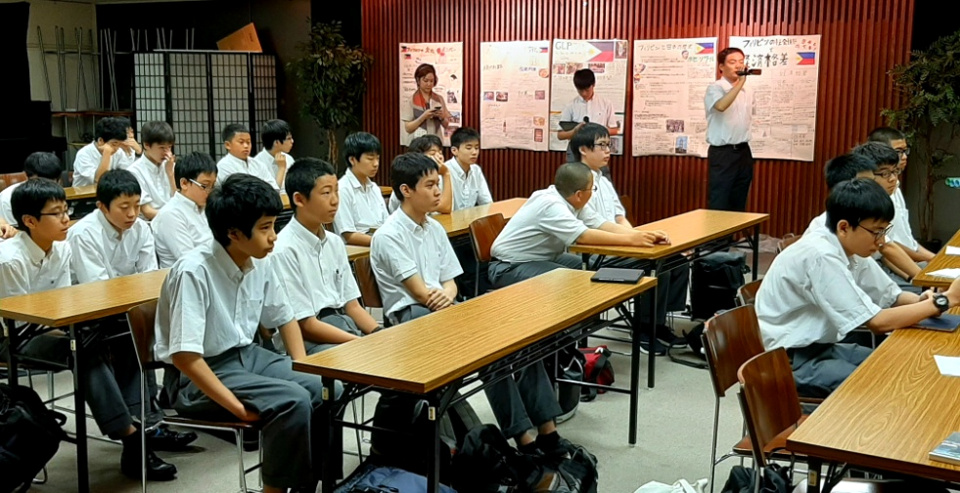 During their visit to Bataan, the students walked through a certain segment of the route of the Bataan Death March, infamously known for the death toll and suffering it inflicted to thousands of Filipino and American prisoners of war under duress by the Japanese. They also visited the Philippines-Japan Friendship Tower and the Bataan World War II Museum. Through these visits and listening to first-hand accounts of the families of survivors, the students gained a fresh perspective of World War II and Japan's occupation of the Philippines.
As the students reflected about the Philippines' experience under the Japanese occupation during World War II, the Embassy highlighted the importance of learning from history and working together towards promoting peace and strengthening the friendship between the Philippines and Japan.
The Embassy underscored that the relationship between the Philippines and Japan is a model of reconciliation, which now has evolved into a strategic partnership across broad areas of cooperation. The Embassy encouraged the students to be more inspired in working toward mutual understanding and peace, even in their own little ways.
The students' visit to the Philippines is part of Kosei Gakuen Junior High School's Global Leader Project, a program for a select group of students that immerses them in multicultural experiences as well as a platform to enhance their English-language skills towards meaningful engagement as future global leaders.