Philippine Embassy Video Featured in ASEANPEDIA Website Introduces The Philippines To Japanese Students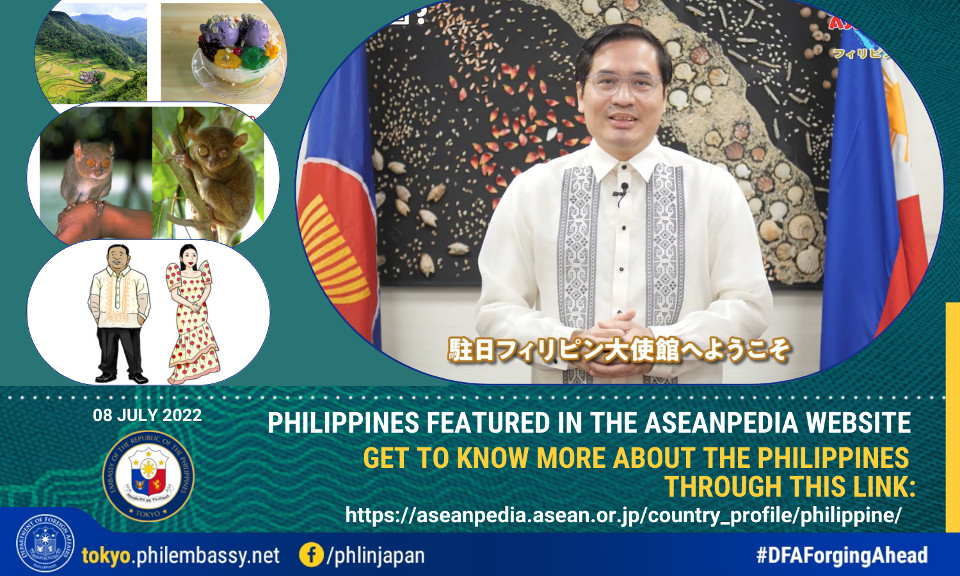 8 July 2022 – The newly relaunched ASEANPEDIA website now features a video introduction on the Philippines. The video, co-produced by the Philippine Embassy in Tokyo and the ASEAN-Japan Center (AJC), provides information about the country's geography, culture, tourism offerings, and a brief history of Philippine-Japan relations as narrated by the Embassy's Chargé d' Affaires (CDA) Robespierre L. Bolivar.
The video was released in time for the celebration of the 66th anniversary of the normalization of diplomatic relations between the Philippines and Japan in July 2022.
"The Philippines has been called the Pearl of the Orient since our country's map looks like a string of pearls and is rich with natural resources, including pearls," notes CDA Bolivar as he encourages viewers to learn more about the country. He also invites the Japanese to visit the Philippines so that they could experience "the best beaches, the most delicious food, and the warmest smiles."
The video features a rendition of Tinikling performed by the Philippine Cultural Dance Troupe of the Tokyo University of Foreign Studies (TUFS). They also introduced the phrase "Mas masaya kung sama-sama tayo" (It's more fun when we are together).
ASEANPEDIA originally launched in 2016 and was revitalized by the ASEAN-Japan Centre in mid-2022.   The website aims to introduce the member states of the Association of Southeast Asian Nations (ASEAN) to the Japanese public, especially junior high school and high school students. Each webpage introduces one of the ten ASEAN countries and includes information about their history, world heritage sites, food, traditional costumes, sports, and a snapshot of their bilateral relations with Japan in the areas of trade, investment, tourism, and people-to-people exchanges.
The video about the Philippines is among the first three country videos currently available in the website.  Viewers can learn about the Philippines and the Philippine Embassy in Japan by visiting the ASEANPEDIA website on https://aseanpedia.asean.or.jp/country_profile/philippine/ and its YouTube page https://youtu.be/xIJ275D4vDQ.