Philippine Embassy in Tokyo Commemorates Rizal Day 2019
The Philippine Embassy joined the entire Filipino nation in commemorating the martyrdom and heroism of Dr. Jose Rizal, our national hero, through an intimate gathering together with Ambassador Makoto Katsura, President of the Philippine Society of Japan (PSOJ), at the Philippine Embassy on 27 December 2019.
In her opening remarks, Minister Evangeline T. Ong Jimenez-Ducrocq, chargé d'affaires, a.i., underscored that "Rizal's execution on 30 December 1896 was a game changing event in the history of the Philippine Republic", and that the "telling and retelling of Rizal's stories open our eyes to truths we should never forget." CDA Jimenez-Ducrocq urged fellow government colleagues to ponder their words and their narratives in this digital age, and to emulate the integrity of Dr. Rizal.
A short video clip on Rizal's life as a hero was followed by a reading of an excerpt of Rizal's "Mi Ultimo Adios" in Tagalog as translated by Gat Andres Bonifacio. His patriotic words, written more than a century ago, still resonated and clearly struck a chord in the hearts of those in attendance.
Ambassador Katsura, former Ambassador of Japan to the Philippines from 2007 to 2011, highlighted PSOJ's work in deepening bilateral relations between the Philippines and Japan. The PSOJ is a group composed of eminent Japanese of proven insight into the Philippines. It has been a bulwark in Philippines-Japan relations, long leveraging its intellectual heft to bring mutual benefit to PH-JP bilateral relations.
In closing, Consul-General Charmaine A. Serna-Chua enjoined everyone to "learn from our history" and derive from Rizal's memory "inspiration and purpose for our lives" especially since our "revolution remains unfinished – against poverty and ignorance".
Rizal's relevance to this modern age was given a breath of fresh perspective through the launching of a manga series in Japan in 2018. This is not a coincidence since unknown to many, Rizal had a short sojourn to Japan in 1888. During this time, he wrote, "I have stayed here longer than I intended, for the country seems to me very interesting and because in the future, we shall have much to do and deal with Japan." More than a century later, these prescient words have defined the now outstanding and robust bilateral relations between the Philippines and Japan, which President Duterte has described to be in its golden age. END.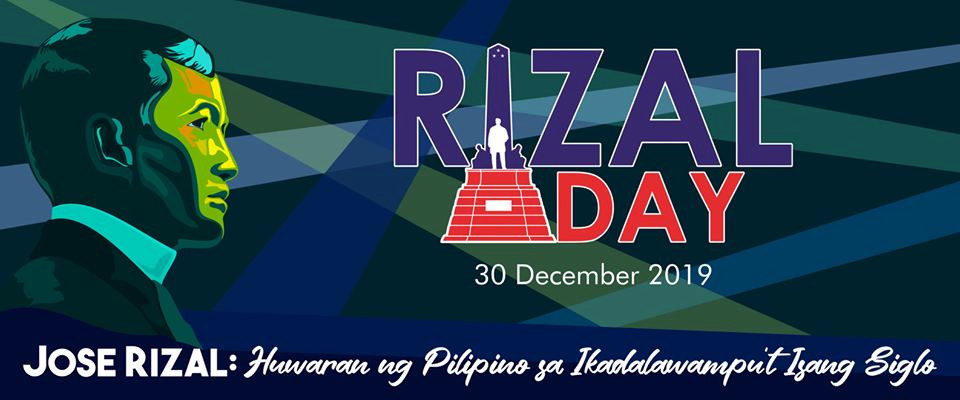 "Pahimakasni Dr. José Rizal"
translation by Andrés Bonifacio
Pinipintuho kong Bayan ay paalam,
lupang iniirog ñg sikat ñg araw,
mutiang mahalaga sa dagat Silañgan,
kalualhatiang sa ami'y pumanaw.
Masayang sa iyo'y aking idudulot
ang lanta kong buhay na lubhang malungkot;
maging mariñgal man at labis alindog
sa kagaliñgan mo ay akin ding handog.
Ako'y mamatay, ñgayong namamalas
na sa silañganan ay namamanaag
yaong maligayang araw na sisikat
sa likod ñg luksang nagtabing na ulap.
Kung sa libiñgang ko'y tumubong mamalas
sa malagong damo mahinhing bulaklak,
sa mañga labi mo'y mangyaring ílapat,
sa kaluluwa ko halik ay igawad.
At sa aking noo nawa'y iparamdam,
sa lamig ñg lupañg aking libiñgan,
ang init ñgiyong paghiñgang dalisay
at simoy ñg iyong paggiliw na tunay.
Báyang iniirog, sákit niya ring hirap,
Katagalugang kong pinakaliliyag,
dingin mo ang aking pagpapahimakas:
diya'y iiwan ko sa iyo ang lahat.
Paalam, magulang at m̃ga kapatid
kapilas ñg aking kaluluwa't dibdib
m̃ga kaibigan bata pang maliit
sa aking tahanan di na masisilip.
Pag pasalamatan at napahiñga rin,
paalam estrañgerang kasuyoko't aliw.
paalam sa inyo m̃ga ginigiliw:
¡mamatay ay siyang pagkagupiling!