Philippine Embassy and FilCom Prepare for Christmas with Simbang Gabi, Join FilCom All Over The World in Celebrating the Filipino Tradition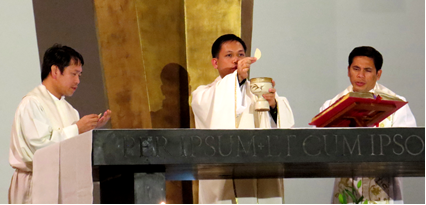 Tokyo – The Philippine Embassy and the Filipino Community in Tokyo and nearby prefectures celebrate the Filipino tradition of the "Simbang Gabi", the nine-day novena masses to prepare for Christmas, on 15-23 December 2013 at the Meguro (St. Anselm) Catholic Church in Tokyo.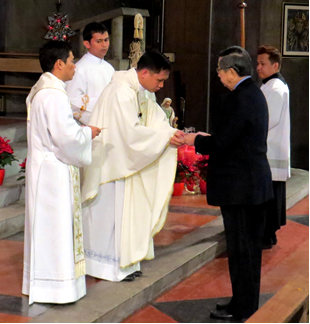 The Philippine Embassy headed by Philippine Ambassador to Japan Manuel M. Lopez, with the support of Meguro Church Pastor Fr. Leo Schumacher S.S.C., the Meguro Parish, the Catholic Tokyo International Center (CTIC) and the Philippine Assistance Group (PAG), joined hands with various Filipino community groups in organizing the Simbang Gabi.
The first eight Simbang Gabi masses were celebrated by Filipino priests from around the region, namely, Reverend Fathers Dan Mutia, Edwin Corros, Victor Dellaban, Jack Serate, Nelson Barbarona, Roed Desamparado, and Nonoy Plaza. Fr. Leo Schumacher celebrates the last mass.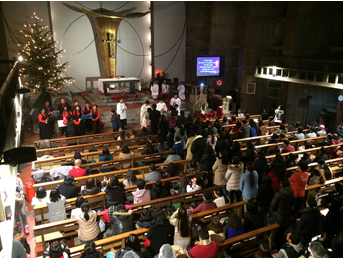 The Simbang Gabi masses were well attended, with around 100 to 350 people attending each day. The collections from this year's Simbang Gabi masses will be donated to victims of last year's Typhoon Yolanda (Haiyan) and this year's Typhoon Ruby (Hagupit).
After each mass, refreshments donated by Filcom groups and private companies supporting the Filipino community were served at the Church Hall, including traditional Filipino fare such as arroz caldo, pancit, suman, pan de sal, queso de bola, hamon, kape and salabat.
The Simbang Gabi, Japan adds to the global spiritual preparation by Filipinos for the birth of Jesus Christ on Christmas Day. Various Filipino communities in Asia, US, Latin America and Europe have organized Simbang Gabi in coordination with their respective Philippine Embassies or Consulates General. This is one unique Christmas tradition that unites Filipinos all over the world to share the message of peace, family togetherness and love.