On The Demise of the Honorable Domingo L. Siazon Jr., Former Secretary of Foreign Affairs and Former Ambassador to Japan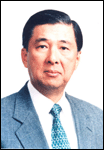 The Embassy of the Republic of the Philippines in Tokyo mourns the passing of the Honourable Domingo L. Siazon, Jr., former Secretary of Foreign Affairs (1995-2001) and Philippine Ambassador to Japan (1993-1995; 2001-2010), on the 3rd of May, 2016.
A towering, revered figure in the annals of Philippine public service and diplomacy, he leaves behind an indelible mark in national, regional and global affairs. He served as the first Director-General of the United Nations Industrial Development Organization (1985-1993). As Foreign Secretary at a time of growth and change within ASEAN and the larger region, he worked assiduously with foreign counterparts, who sought his support and counsel, in the service of the goals of regional peace and prosperity.
Secretary Siazon was one of the Philippine Foreign Service's most distinguished and beloved sons. It was in this Embassy that Secretary Siazon started and closed his illustrious Foreign Service career in 1964 and 2010, respectively, a source of great honour and pride for this diplomatic mission. He worked tirelessly to advance Philippine-Japan relations. His demise comes at a time when relations between his motherland and his adopted second home have attained unparalleled heights. Secretary Siazon's lasting legacy and contributions to diplomacy with Japan live on, a vigorous stream from which the river of Philippine-Japan relations will continue to flow and draw strength in the coming years.
The Embassy shares in the grief of his beloved family, and conveys its most profound condolences. END