Filipino Cuisine Captivates Japanese Guests at Philippine Food Fair 2014
25 November 2014 – Following the success of Philippine food festivals held in Tokyo in previous years in prestigious venues such as the Hilton Hotel, Hotel Okura and the Imperial Hotel, the Embassy of the Philippines and the Department of Tourism in Tokyo organized the Philippine Food Fair 2014 on 22-24 November 2014 at the acclaimed Tokyo American Club.
To kick off the Food Fair, the Philippine Embassy hosted a cocktail reception on 21 November 2014, with Ambassador Manuel M. Lopez and Madame Maria Teresa L. Lopez welcoming some 150 Japanese guests.
In his welcome remarks (photo below), Ambassador Lopez said that food is a very important part of Philippine culture. He emphasized the centrality of food to Filipino family and community life, and described Philippine food as an expression of the Filipino people's warmth, friendship and hospitality.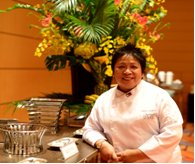 Ambassador Lopez said that this year's Food Fair features the signature dishes of Myrna Segismundo, an acclaimed Filipino chef, cookbook author and television culinary show host (photo left). Known for advocating the preservation of traditional Filipino cooking, she is also a culinary ambassador, having travelled extensively to many countries to introduce the flavors of the Philippines.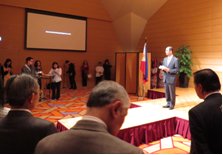 Mr. Kazuo Inaba, Director General for International Affairs of the Ministry of Land, Infrastructure, Transport and Tourism (photo right), delivered the response on behalf of Hon. Akihiro Ohta, Minister of Land, Infrastructure, Transport and Tourism. Minister Ohta noted the marked increase in two-way tourism between the Philippines and Japan, and expressed the hope that more Japanese would get to know the delights of Philippine cuisine through the Food Fair.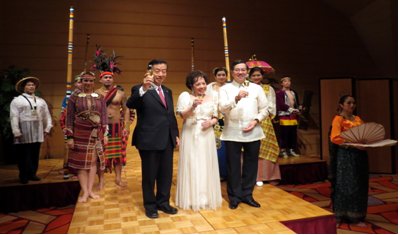 Hon. Kenji Kosaka, Member of the House of Councillors of Japan and Chairman of the Japan Philippines Parliamentary Friendship League (photo left), led the "kampai" or traditional Japanese toast for the event.
Chef Segismundo of the multi-awarded Restaurant 9501 of the ABS-CBN Broadcasting Corporation prepared a sumptuous Filipino fusion buffet of 12 dishes including shrimp kinilaw ceviche, tuna kinilaw with avocado, chicken inasal and pork barbeque skewers, tinapa mousse and pork adobo pate on toast, crab torta and roasted chicken sinampalukan.

The Japanese guests, among them presidents, CEOs and general managers of Japanese corporations including importers of Philippine products and members of the Japanese parliament, expressed delight at the rich flavors and colors of the Filipino dishes in the buffet.
An added feature of the Philippine Food Fair 2014 was the cultural presentation with a performance of Filipino traditional dances by the Tokyo University of Foreign Studies Cultural Dance Troupe and a mini fashion show featuring Philippine regional costumes with Ambassador and Madame Lopez providing the finale (photo collage below).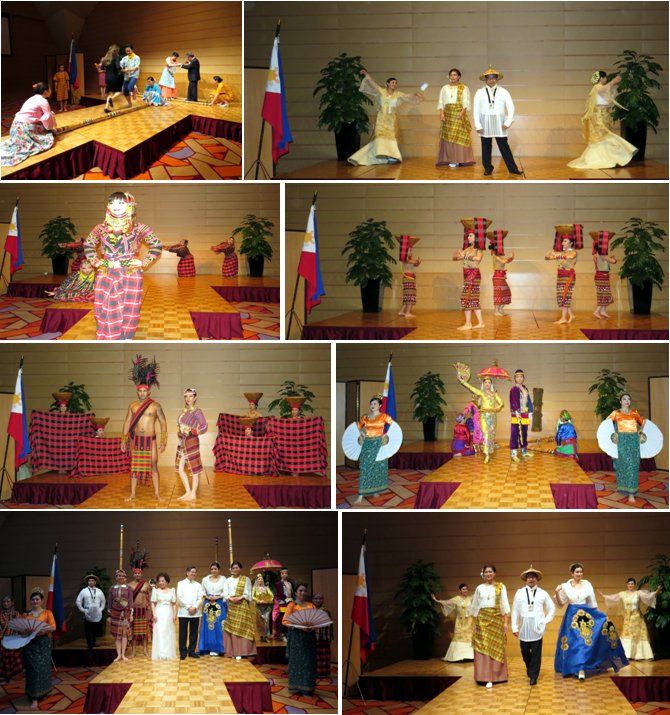 The event was supported by the ASEAN-Japan Centre, Metrobank, Philippine Airlines and the Pinoy Golf Association in Japan.