Embassy Shares PH-Japan History and Bilateral Relations with Pupils of Ishida Elementary School in Fukushima as Contribution to the Support Program for Victims of the Great East Japan Earthquake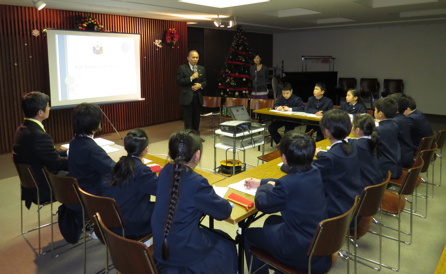 11 December 2014, Tokyo – The Philippine Embassy welcomed 13 students from the Ishida Elementary School, in Date-City, Fukushima Prefecture (photo above) and gave a briefing on Philippine-Japan history and bilateral relations in support of the program of the Municipal Institute for International Cooperation (MIIC) to assist in the recovery and healing process for the victims of the Great East Japan Earthquake in March 2011.
Deputy Chief of Mission Gilberto Asuque along with Ms. Angelica Escalona, Cultural Officer, Ms. Jane Mariano, Cultural Assistant and Ms. Kanami Namiki, translator, discussed with the elementary students the long friendship and cooperation between the Philippines and Japan including the visit to Japan of Dr. Jose Rizal, the National Hero. The visit to the Embassy is part of the Kid Ambassador Program of the MIIC that aims to provide opportunities for elementary school pupils in Fukushima Prefecture to receive hands-on experience in the diplomatic community in Tokyo as well as assist the victims of the earthquake start a new life following their traumatic experience from the natural disaster and the resulting decontamination from the radiation leak of the Fukushima Nuclear Power Plant.
The pupils with their teachers and officials of the MIIC also took the opportunity during the visit to express their gratitude for the heartfelt sympathy, medical teams, emergency relief supplies and food that the Philippines extended to the residents of the Prefectures affected by the Great East Japan Earthquake.
Following the massive destruction caused by Typhoon Yolanda (Haiyan) in Central Philippines in 2013, all the students of the Ishida Elementary School wrote messages of sympathy and support and sent them to Amb. Manuel M. Lopez and to DSWD Secretary Corazon Soliman through the MIIC. DCM Asuque thanked the pupils of the Ishida Elementary School for their messages in the aftermath of Typhoon Yolanda.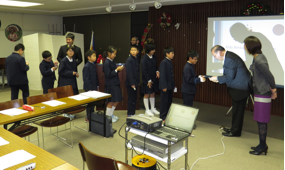 Before the discussions on PH-Japan relations, each of the pupils, their teachers and MIIC officials introduced themselves to DCM Asuque by presenting the customary name cards (photo at right).
After the presentation, the Embassy invited the pupils, teachers and MIIC officials to a Filipino lunch of adobo, fresh lumpia and leche flan. Before the end of the visit, they gathered at the Embassy lobby for the group photo (below) with DCM Asuque, center, Ms. Escalona, 3rd from right, and Ms. Namiki, 2nd from right.