The Philippine Embassy Celebrates the 2023 Filipino Food Month in Japan
Philippine Ambassador Mylene J. Garcia-Albano led the celebration of the 2023 Filipino Food Month on 25 April 2023 at the Philippine Embassy in Tokyo Japan. This special celebration was organized in cooperation with the Philippine Tourism and Agriculture Offices in Tokyo.
The attendees were treated to dishes from all over the Philippines prepared by Filipino Chefs headed by Chef Mareve Inomata with the assistance of Chef Loida Ozaki and Chef Leo Hermosa.
The featured Filipino food included tortangtalong, menudo empanada, longganisapandesal sliders, sisig canape, laingmaki roll, mussels adobo, chicken inasal, crispy pork liempo, yema cake, maruya (banana fritters with coconut palm sugar), ube purple yam with jackfruit, tablea cacao ganache with mango, and palitaw. Drinks such as hanamimatchacalamansi, mango mojito and barako coffee were also served during the event.
The serving of the dishes was followed by a description of the food and popular destinations in the Philippineswhere they are found such as Manila, Intramuros, Vigan, Pampanga, Palawan, Bicol, Cebu, Bohol, Negros, and Davao. The Philippine products that formed part of the ingredients of the food and drinks were also introduced to the guests. This included Philippine chocolates, bananas, mangoes, ube, calamansi, and barakocoffee.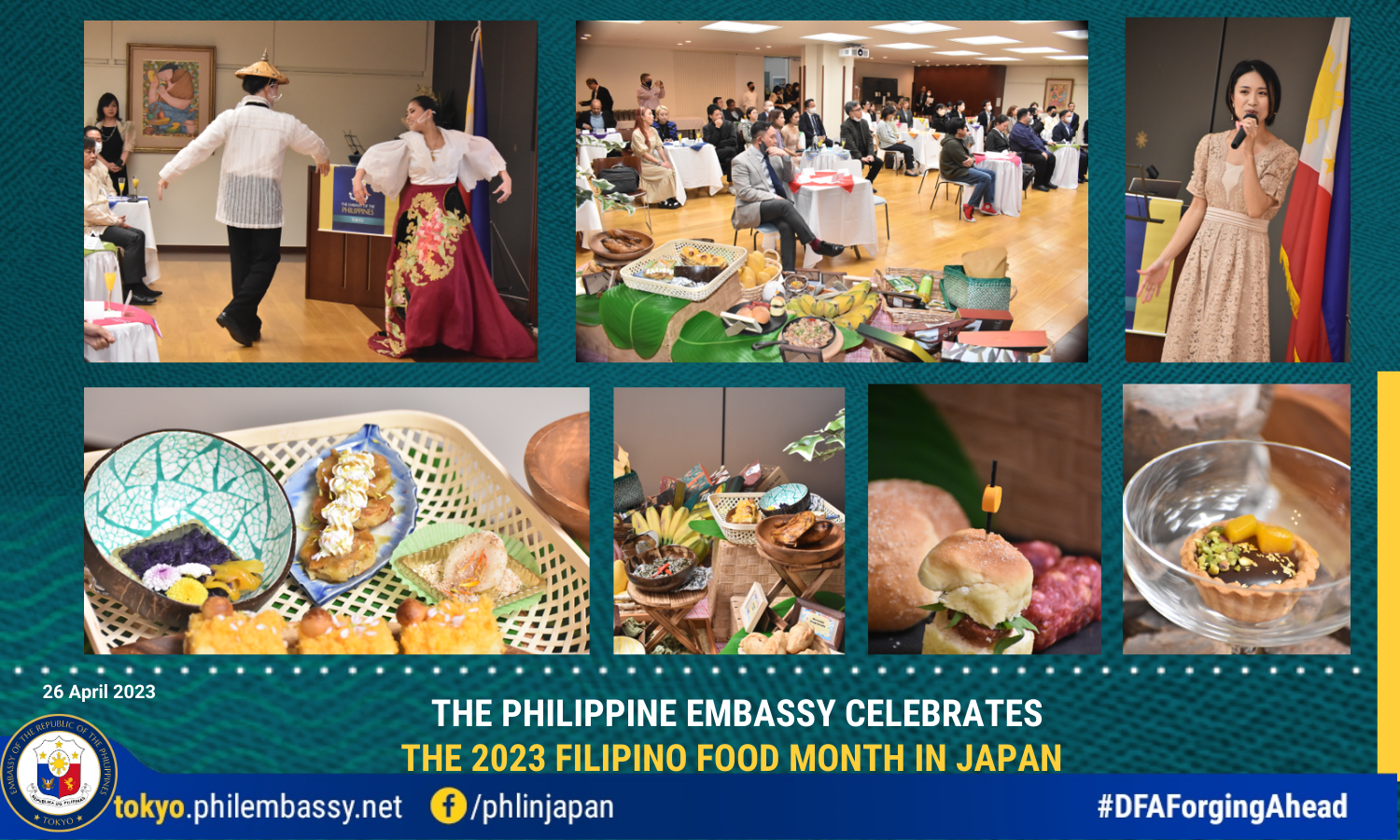 It was a celebration that also featured traditional dances and clothing as presented by the TUFS Cultural Dance Troupe and Filipino songs performed by Ms. Karen Kono.
Ambassador Garcia-Albano expressed her appreciation to the audience for joining the Embassy in this Filipino Food Month celebration. They are officials from the Government of Japan, the ASEAN – Japan Centre, representatives from the tourism and hotel industry, and other stakeholders that have supported the Philippine Embassy's cultural and tourism activities as well as its people-to-people exchange programs.
The Ambassador also expressed the hope that the 2023 Filipino Food Month celebration will inspire the attendees to visit the Philippines to get a firsthand experience of the sights, sounds, and tastes from the various areas of the country.