Philippines Well-Advanced In Women Empowerment, Ambassador Garcia-Albano Tells Special Advisor Ueno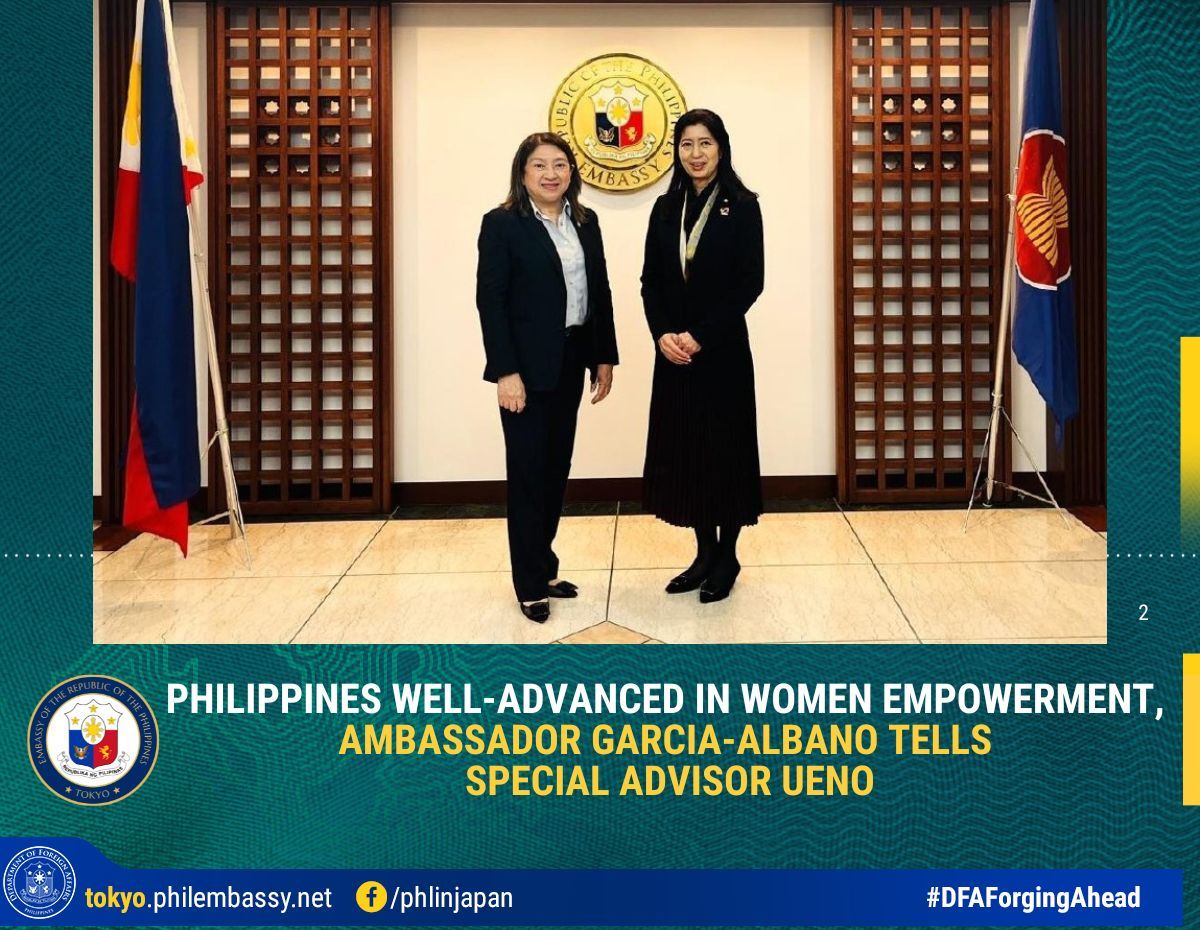 In an exchange with Special Advisor to the Prime Minister for Women's Empowerment, Consumer Policy and Elderly Policy Michiko Ueno, Ambassador Mylene J. Garcia-Albano proudly mentioned that the Philippines ranked 16th in the 2023 World Economic Forum's Global Gender Gap Index Report and first in South East Asia in terms of gender equality.
Ambassador Garcia-Albano credited the Philippines' strong showing in international gender equality measures to the country's legislative framework that promotes gender equality and women empowerment. She referred to the Magna Carta of Women Act which mandates government agencies to allocate 5% of their budget to gender mainstreaming activities. She likewise said that cultural norms in the Philippines which emphasize close family ties allow women to work outside of the home.
Special Advisor Ueno commended the Philippine experience and observed that Japan is now working on a policy framework aimed at meeting its international commitment to accelerate progress on women empowerment.
Ambassador Garcia-Albano replied that social and institutional biases hindering women's equal participation in society can only be reversed through concrete action and dedicated resources.
The lively exchange on women empowerment ended on a high note with Ambassador Garcia-Albano recalling the fruitful visit of Prime Minister Fumio Kishida to Manila on 3 November 2023.
Special Advisor Ueno, who also serves as the Secretary General of the Japan-ASEAN Inter-Parliamentary Exchange Group of the House of Councillors, invited Ambassador Garcia-Albano to a dialogue on women's issues on 8 November 2023 to mark the 50th year of ASEAN-Japan Friendship and Cooperation. END