Philippines-Japan Strategic Partnership Gains Further Boost at Bilateral Meeting Between Secretary Del Rosario and Japan Foreign Minister Kishida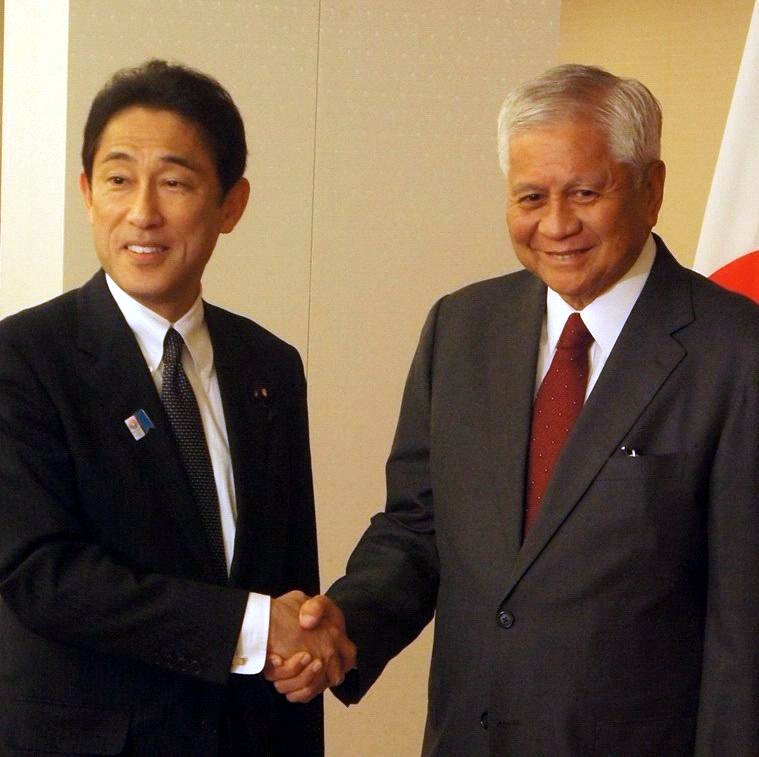 23 May 2013 — Foreign Affairs Secretary Albert F. del Rosario and Japan Foreign Minister Fumio Kishida affirmed the resolve of the Philippine and Japanese Governments towards advancing their strategic partnership at their second bilateral meeting at the Foreign Ministry in Tokyo on May 22.
Holding their second meeting in five months, the two Foreign Ministers engaged in comprehensive discussions that reviewed the status of ongoing and prospective activities geared towards furthering bilateral cooperation in the political, economic and socio-cultural arenas. They also reviewed and exchanged views on the current regional security situation and agreed to enhance the two countries' partnership towards addressing regional concerns, both through established bilateral policy dialogue mechanisms, as well as within the context of ASEAN-led mechanisms, including the East Asia Summit (EAS), ASEAN Regional Forum (ARF) and other regional initiatives.
Secretary del Rosario and Minister Kishida renewed the Philippines and Japan's commitment to advancing their cooperation in the field of maritime security. Japan pledged its continued support towards the Philippines' capability-building in this field. Secretary del Rosario welcomed the Government of Japan's recognition of the value of the Philippines' arbitral proceedings under the United Nations Convention on the Law of the Sea (UNCLOS), to clarify maritime entitlements in the West Philippine Sea.
The Secretary also welcomed Japan's commitment to continue its vigorous support for the Mindanao peace process under the roadmap adopted under the October 2012 Framework Agreement on the Bangsamoro, as well as its extension of development assistance under the Japan-Bangsamoro Initiative for Reconstruction and Development (J-BIRD).
They also discussed the Philippines' economic gains under the Aquino administration, as well as Japan's assistance in the area of infrastructure and investment climate improvement in the Philippines.
In the cultural field, Minister Kishida informed his Philippine counterpart of the JENESYS 2.0 program. Under the program, Japan will be inviting 1,000 young Filipinos to visit the country in order to raise awareness among ASEAN youth towards ASEAN economic integration.
Japan is the Philippines' number one trade partner and provider of official development assistance.