Philippine-Japan Relations Reach New Heights As Foreign Secretary Del Rosario Concludes Successful First Official Visit
29 June 2012 – Foreign Affairs Secretary Albert F. del Rosario concluded today his first official visit to Japan, with the Philippine-Japan strategic partnership inaugurated by President Aquino and Prime Minister Yoshihiko Noda in September last year taking several important steps forward.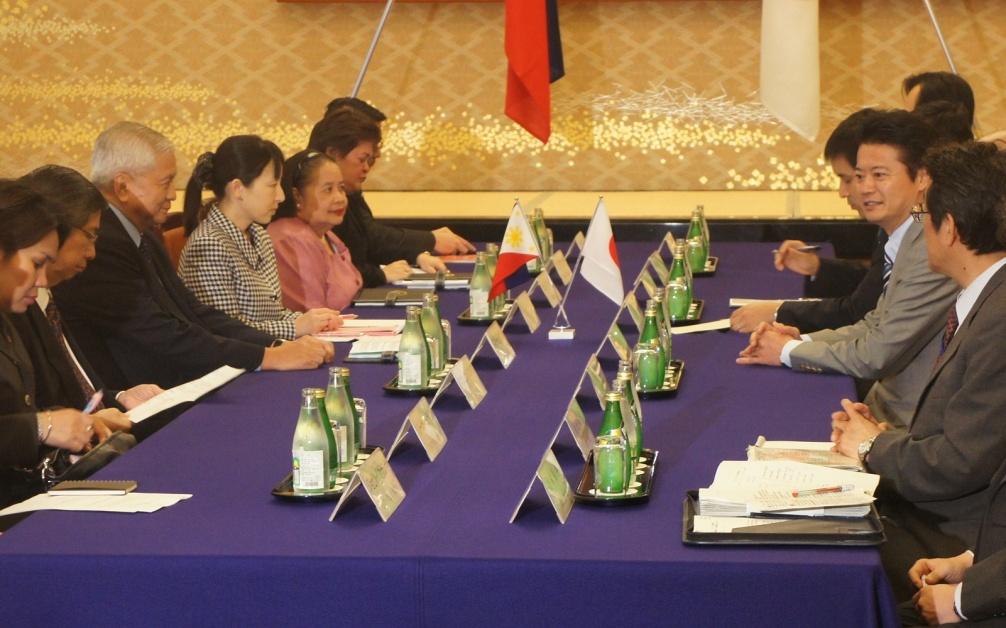 Japanese Foreign Minister Koichiro Gemba hosted a bilateral meeting and official dinner for Secretary del Rosario at the Japanese Foreign Ministry's Iikura Guest House in Tokyo on June 28. The two Ministers engaged in comprehensive discussions reviewing key aspects of relations, and affirmed their respective Governments' commitment to advancing the multifaceted bilateral relationship, on the basis of the two countries' shared values and long history of cooperation. Talks centered on the enhancement of political dialogue, economic cooperation, official development assistance, and business-to-business and people-to-people ties, as well as on the furtherance of bilateral cooperation on shared regional strategic concerns, including maritime security and disaster risk reduction.
The Secretary also held productive meetings with Deputy Prime Minister Katsuya Okada, JICA President Akihiko Tanaka, as well as with major Japanese business organizations led by the Japan Chamber of Commerce and Industry (JCCI), the Japan-Philippines Economic Cooperation Committee (JPECC), and the International Friendship Exchange Council (FEC).
Deputy Prime Minister Okada received the Secretary at the Kantei, the official residence of the Japanese Prime Minister. The two officials reviewed recent positive economic developments in both the Philippines and Japan, exchanged views on regional security concerns, and discussed the advancement of economic cooperation, including through the Philippines-Japan Economic Partnership Agreement (PJEPA). Both officials also conferred regarding measures to more effectively realize the objectives of the PJEPA's provisions on the Movement of Natural Persons, particularly Japan's acceptance of Filipino nurses and careworkers.
JICA President Tanaka, who himself returned from a successful first visit to the Philippines in early May, called on the Secretary in Tokyo. They reviewed the progress of major ongoing JICA-assisted projects in the Philippines, including grassroots development projects in Mindanao. Secretary del Rosario took the opportunity to thank JICA for its steadfast support for the Philippines' development priorities and for the public-private partnership scheme.
Shortly after his arrival in Tokyo, the Secretary also received Japanese Diet members affiliated with the Japan-Philippines Parliamentarian Friendship League (JPPFL) led by its Chair, Councillor Hajime Ishii, with whom he discussed the crucial role of inter-parliamentary cooperation in supporting the bilateral strategic partnership, as well as issues of mutual interest to the Philippines and Japan.
The Secretary undertook the two-day Official Visit on the invitation of Foreign Minister Gemba. Both Governments value such high-level visits and dialogues as integral to the further enhancement of the 56-year-old bilateral relationship, one of Asia's most dynamic.