Philippine Embassy Joins Largest International Gathering In Commemoration of the 78th Hiroshima Peace Ceremony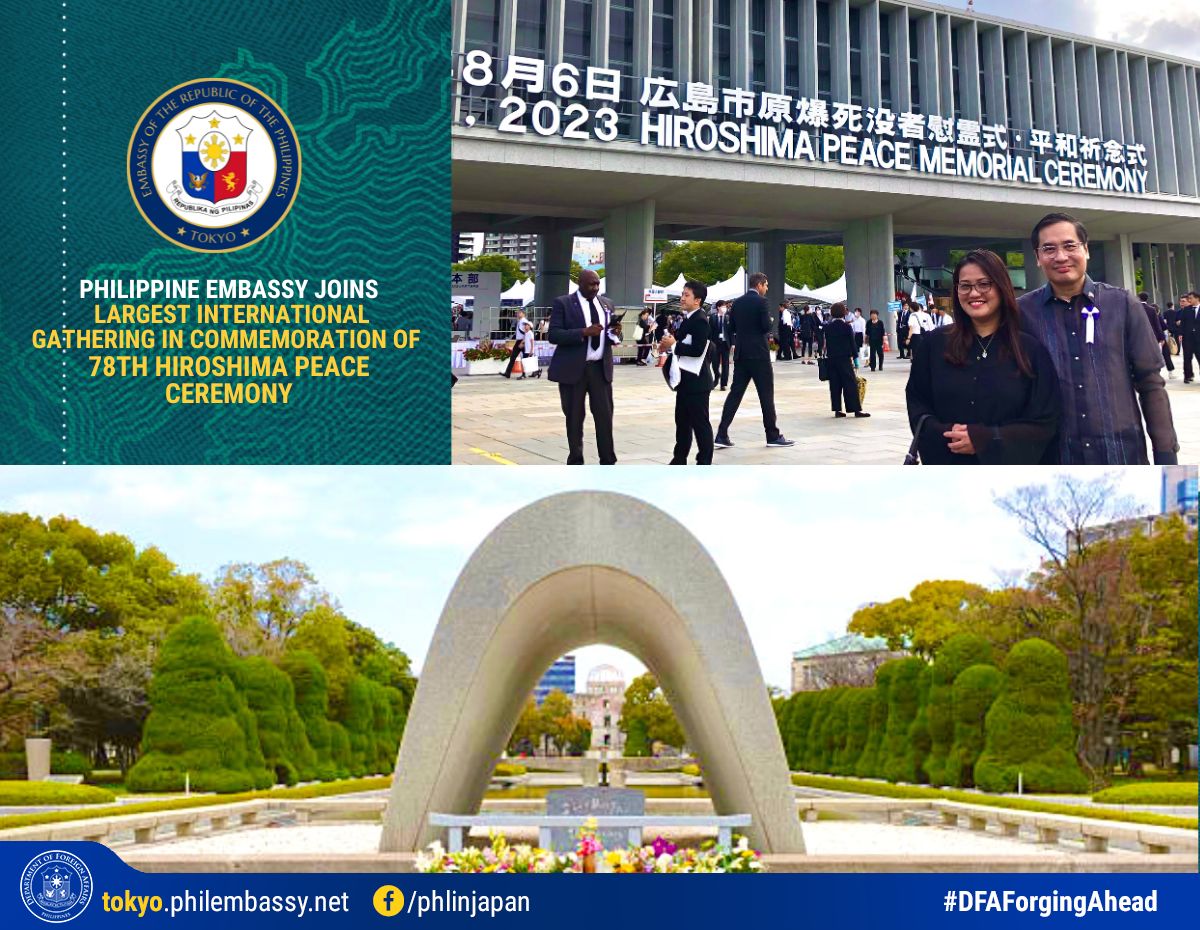 Philippine Embassy in Japan Chargé d'Affaires (CDA) Robespierre Bolivar and Mme. Maria Aurora Bolivar joined representatives of 111 countries and the European Union in reaffirming their commitment to a world free of nuclear weapons at the 78th Hiroshima Peace Memorial Ceremony on 05 to 06 August 2023 in Hiroshima City, Japan. This is the largest international gathering in commemoration of atomic bombing of the city during the waning days of the Second World War in 1945.
On the afternoon of August 05, CDA and Mme. Bolivar laid flowers and offered prayers as a tribute to the victims of the bombing at the Cenotaph erected below the exact location where the atomic bomb exploded 78 years ago. They also visited the Hiroshima Peace Museum, which documents the events surrounding the dropping of the atomic bomb on the city towards the end of World War II, in particular the horrific effects of radiation poisoning on the civilian population.
On August 06, the 78th anniversary of the bombing, CDA and Mme. Bolivar joined Japanese Prime Minister Fumio Kishida, the Governor of Hiroshima Prefecture, the Mayor of Hiroshima City and members of the Diplomatic Corps at the Peace Park, where ceremonies commemorated the thousands who perished due to the bombing. United Nations Secretary General Antonio Guterres sent his message, which was read by the UN Under-Secretary-General and High Representative for Disarmament Affairs, Ms. Izumi Nakamitsu.
At 8:15 AM, the precise moment when the atomic bomb exploded in the skies over Hiroshima, bells tolled throughout the city and participants observed a moment of silence.
As of 2023, more than 300,000 people officially recognized as victims of the atomic bomb explosion in Hiroshima in 1945 have passed away. Japan is the only country in history to have suffered through an atomic bomb explosion in war-time.