Philippine Embassy in Tokyo Supports Filipino Children in Japan through the Aikawa Project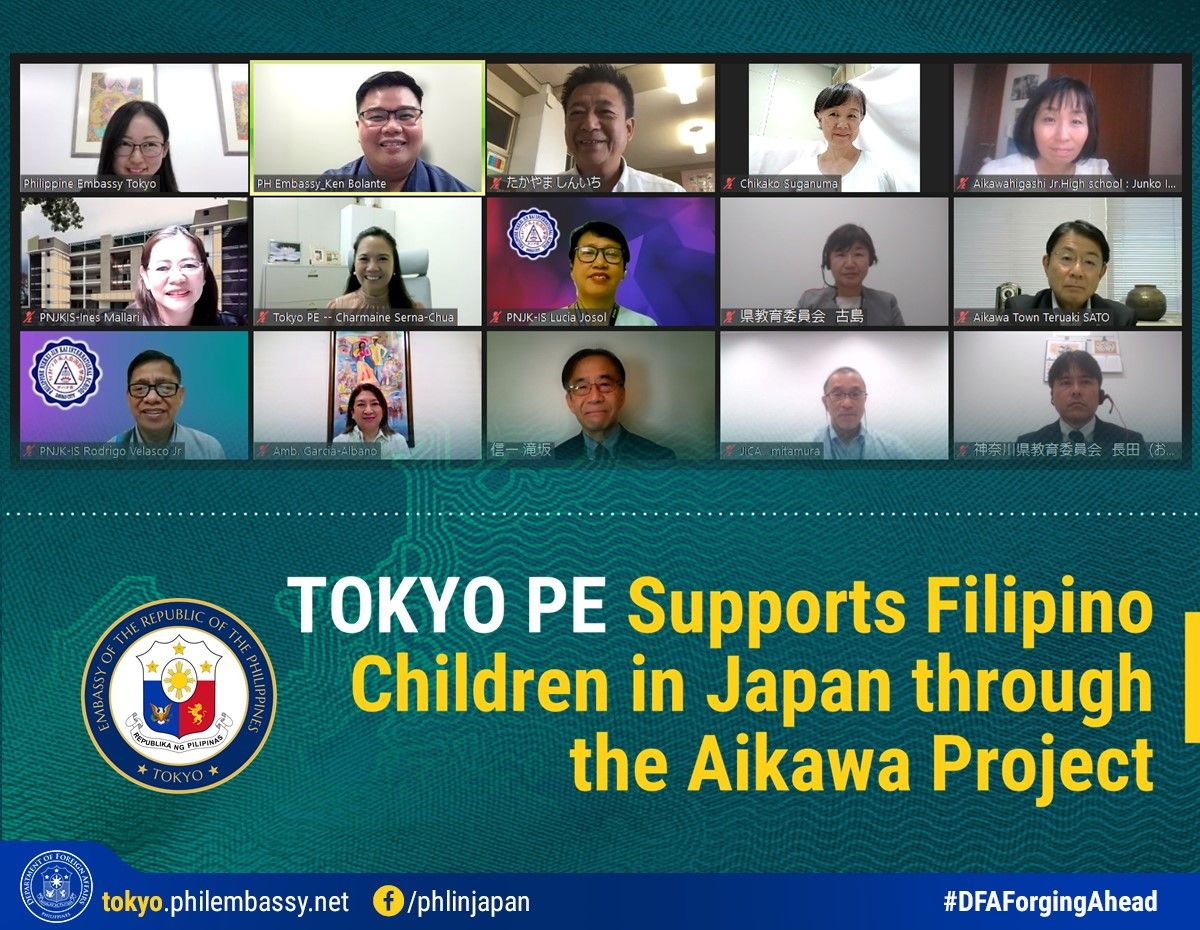 The Philippine Embassy in Tokyo organized an online ceremony last 19 September 2023 to formally launch the signing of the Memorandum of Cooperation between the Philippine Nikkei Jin Kai International School (PNJK-IS) and the Aikawa Higashi Junior High School on the Aikawa Project.
The Aikawa Project is significant because it is pioneering. Through the Project, Filipino students currently enrolled in Japanese schools are given the opportunity to take online classes streamed from the Philippines. These online classes enable the Filipino students to study subjects (e.g., Science) in Filipino or in English, which would otherwise be difficult to understand when taught in Japanese. This approach will hopefully help them cope and steadily adjust to their new life in Japan, including in dealing with language and cultural barriers.
In her remarks addressing the Project partners, Ambassador Mylene J. Garcia-Albano said, "By guiding our Filipino students as they each take their own steps towards integration into Japanese society, you are helping them pave the way for a brighter future. You are also contributing significantly to strengthening cultural diversity and understanding. You are, in fact, building a multi-cultural system of education." Ambassador Garcia-Albano thanked all stakeholders – the PNJK-IS, Aikawa Higashi Junior High School, Aikawa Town Board of Education, Aikawa Higashi Junior High School, Kanagawa Prefectural Board of Education and JICA Yokohama – for their deep and abiding concern for Filipino students and for making this Project a reality.
Dr. Ines Yamanouchi, President of PNJK-IS, Mr. Shinichi Takayama, Principal of Aikawa Higashi Junior High School, Mr. Teruaki Sato, Superintendent of Education of the Aikawa Town Board of Education and Mr. Shinichi Takisaka, Technical Advisor for Multicultural Society and General Coordinator of the Aikawa Project of JICA Yokohama also delivered their remarks on the significance of the Project, and thanked the Embassy for its role in facilitating the conclusion of the MOC.
The launching of the Aikawa Project is timely as it aligns with the 120th anniversary celebration of the Japanese migration to the Philippines this year. It is also a significant contribution to promoting enhanced people-to-people ties between both countries.