Philippine Embassy Congratulates Filipino Students Completing The 2023 Sakura Science High School Program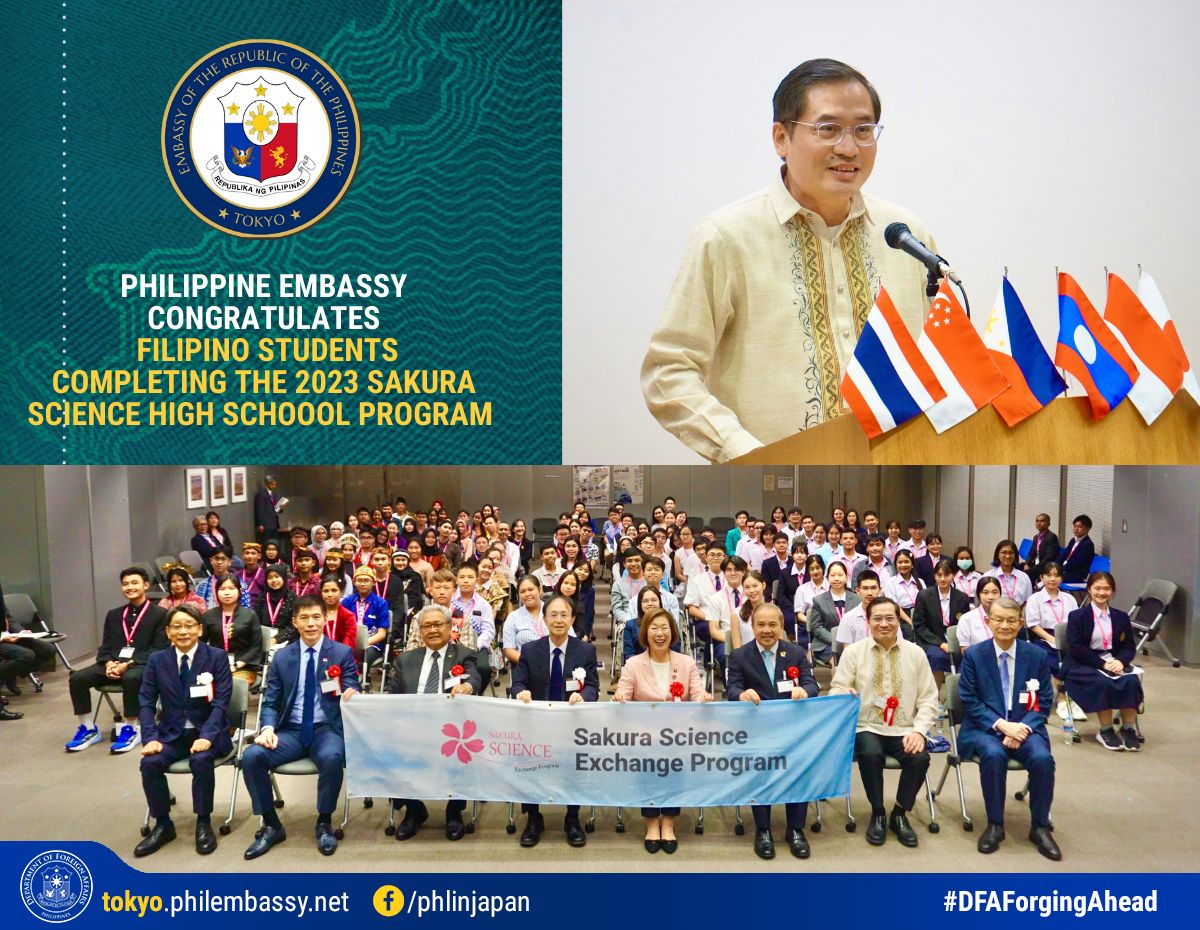 Philippine Embassy Chargé d'Affaires (CDA) Robespierre L. Bolivar congratulated the 20 students from the Philippine Science High School who completed the 2023 Sakura Science High School Program for the Association of Southeast Asian Nations (ASEAN) during the closing ceremonies held at the Japan Science and Technology Agency (JST) Tokyo Headquarters on 4 August 2023.
Japan's Minister for Education, Culture, Sports, Science and Technology (MEXT), the Honorable Keiko Nagaoka, delivered the keynote address at the event which was also attended by the Ambassadors of 4 other ASEAN Member States. In her speech, Minister Nagaoka expressed the hope that the participants have deepened their understanding of science and technology through the Sakura Science Program. She also noted that the Program serves as one of the bridges of friendship between ASEAN and Japan through people-to-people and educational exchanges as an important part of "Japan's heart-to-heart relations with the region".
In his congratulatory remarks, CDA Bolivar shared how the Sakura is the perfect analogy for Japan's Science High School Program as the flowers embody the idealism of young people, which was eloquently expressed by best-selling author and director Makoto Shinkai's modern classic '5 Centimeters Per Second'.
"This gathering of bright, ambitious, and precocious young people provides a glimpse into a promising future with a new generation full of idealism and relentless curiosity…In this regard, excellent programs such as the Sakura Science High School allow them to benefit from Japan's preeminent place in global science and innovation, enable them to hone their curiosity, to define their goals as future scientists, and to build the foundations for their role in nation-building", he noted.
CDA Bolivar also expressed the hope that more students from ASEAN will be able to benefit from the Sakura Science High School Program as ASEAN and Japan celebrate the Golden Anniversary of their relations and chart the next 50 years of the partnership.
The Sakura Science Program began in 2014 when the Japan Science and Technology Agency (JST) invited talented young foreigners to visit Japan to experience the country's culture and learn from its cutting-edge science and technology. A total of 96 students and 12 supervisors from the Philippines, Indonesia, Laos, Singapore and Thailand during 2023 edition of the Program.
Photo credit: The Japan Science and Technology Agency