PH Economic Team Engages with Japanese Stakeholders in Exploring Investment Opportunities in the Philippines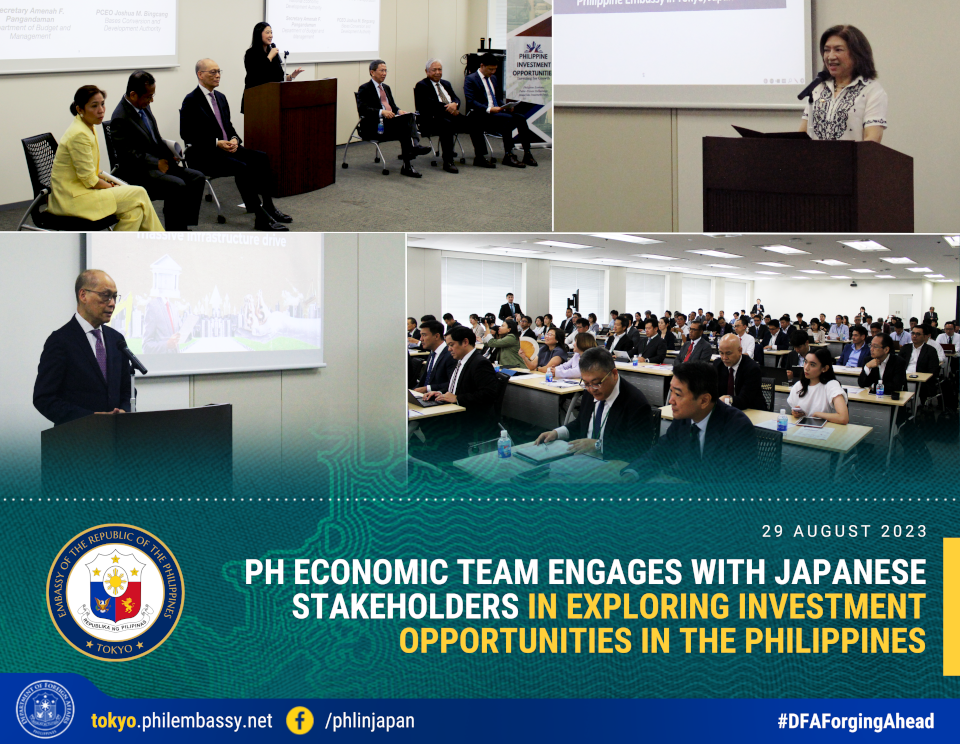 29 August 2023 – The Philippine Economic Team, led by the Department of Finance (DOF) Secretary Benjamin E. Diokno, engaged with Japanese stakeholders in a session on "Philippine Investment Opportunities: Public-Private Partnerships and the Maharlika Investment Fund," held on 29 August 2023 at the Japan International Cooperation Agency (JICA) Takebashi Headquarters in Tokyo, Japan.
The event was co-organized by DOF, JICA, Daiwa Securities Group Inc., Mitsubishi UFJ Financial Group, Mizuho Financial Group, Nomura Holdings, and Sumitomo Mitsui Financial Group, with the support of the Philippine Embassy in Tokyo. Itwas attended by more than 120 participants, including those from the Japanese government, financial institutions, trading houses and related institutions.
The session presented the current state of the Philippine economy, as well as updated the various stakeholders on possible investment opportunities in the Philippines.
In her remarks, Ambassador Mylene J. Garcia-Albano encouraged Japanese partners to "explore various economic opportunities in our country through public-private partnerships as well as through the Maharlika Investment Fund."
"Through our seminar this morning, we hope to leverage the keen interest that our Japanese friends have shown in the Philippine economy over the years. We also wish to highlight the various exciting, mutually beneficial opportunities our country presents and to provide you valuable insights into how the Philippines could be a source of new value to grow and expand your businesses," Ambassador Garcia-Albano stated.
The Economic Team provided an overview of the Philippine economic landscape and highlighted the numerous investment opportunities that await our Japanese partners, including in sectors such as transportation and connectivity, renewable energy, and smart cities. Speakers and panelists included NEDA Secretary Arsenio M. Balisacan, DBM Secretary Amenah F. Pangandaman, DOTR Secretary Jaime J. Bautista, DOE Secretary Raphael P.M. Lotilla, BCDA President & CEO Joshua M. Bingcang, and JICA PH Chief Representative Sakamoto Takema. JICA Senior Vice President Nakazawa Keiichiro delivered the closing remarks.
For his part, Secretary Diokno informed the Japanese stakeholders that the Philippines is using innovative financing solutions, including public-private partnerships, to support infrastructure development without sacrificing fiscal space. Current reforms included corporate income tax structure and fiscal incentives.He also introduced the Philippines' first sovereign investment fund, the Maharlika Investment Fund, which aims to help the administration implement its 8-point socioeconomic agenda and the Philippine Development Plan 2023 – 2028.
The said session was held at the sidelines of the 14th High-Level Joint Committee Meeting on Infrastructure Development and Economic Cooperation, wherein both countries shared their commitment to continuing close coordination for the purpose of further deepening the Strategic Partnership between the Philippines and Japan on the economic front.