Ambassador Garcia-Albano meets Governor Tamaki on first visit to Okinawa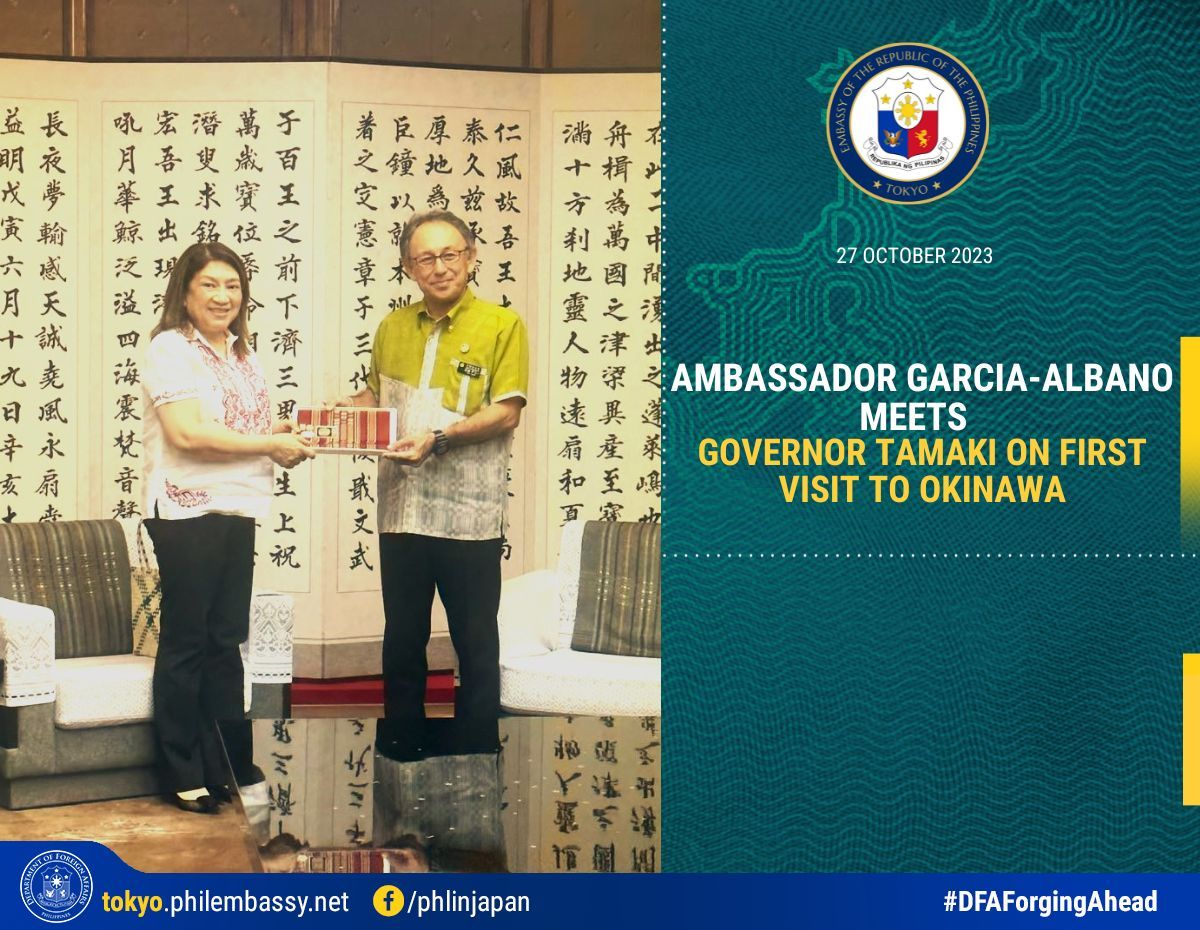 On 27 October 2023, Ambassador Mylene J. Garcia-Albano met with Governor Denny Tamaki, kicking off her first visit to Okinawa Prefecture since taking office last year.
During the meeting, Ambassador Garcia-Albano thanked Governor Tamaki for Okinawa's hospitality to the more than 2,300 Filipinos living and working in the prefecture and for ensuring their safety and well-being. Governor Tamaki remarked that hardworking Filipinos have contributed to Okinawa's development since the transfer of the prefecture to Japan in 1972.
In response to the interest shown by Governor Tamaki, Ambassador Garcia-Albano reported on the assistance provided by the Department of Interior and Local Government to the Japanese Government in the smooth recovery and repatriation of the remains of Japanese soldiers who died in the Philippines during World War II. She assured Governor Tamaki of the Philippine Government's commitment to assist Japan in the recovery of the remains of its fallen soldiers.
Governor Tamaki referred to Okinawa's membership, together with the Province of Cebu, in the Inter-Islands Tourism Policy Forum. He proceeded to encourage greater engagement between Okinawa and the Philippines in setting the agenda in tourism. Ambassador Garcia-Albano assured Governor Tamaki that the Philippine Embassy in Tokyo stands ready to contribute in any way it can to promote greater partnership between the Philippines and Okinawa in the area of tourism, starting with the possible revival of direct flights between Naha City and any of the major cities in the Philippines.
Following her meeting with Governor Tamaki, Ambassador Garcia-Albano met with Naha City Mayor Satoru Chinen and the members of the Okinawa Davao Association.
She capped her three-day visit to Okinawa by engaging with the Filipino community in the town of Chatan, observing the consular outreach mission of the Philippine Consulate General in Osaka (Osaka PCG), and gracing the seminar organized by the labor and trade sections of Osaka PCG to inform Japanese and Filipino businessmen of business opportunities in the Philippines.