The Philippines Gets Featured in the "Know my Country" Series of the Asia-Pacific Ladies Friendship Society (ALFS) this July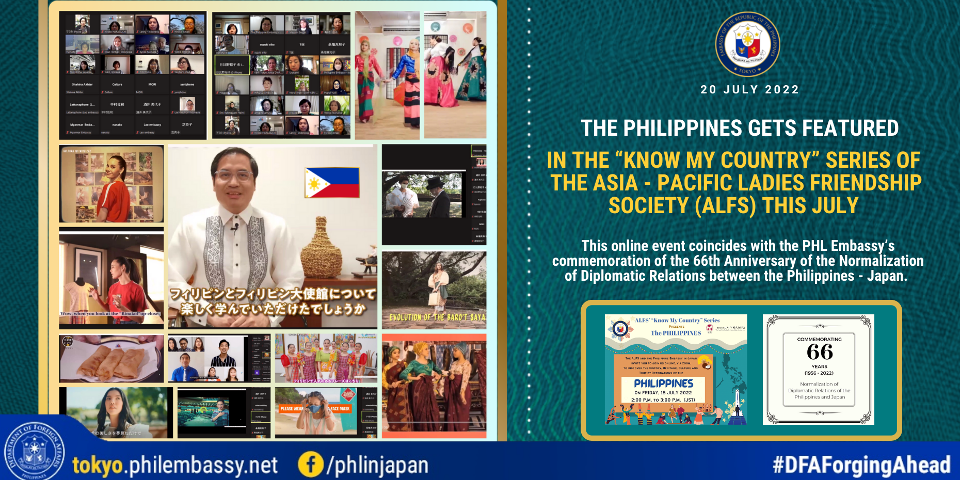 20 July 2022 – The Philippines was featured in the "Know my Country" series of the Asia-Pacific Ladies Friendship Society (ALFS) held online on 15 July 2022.
The online event aims to introduce the history, heritage, culture, food, products, and tourist destinations of the Philippines to the members of ALFS. Fifty attendees joined the online program. The ALFS now has a membership representing 26 countries from the Asia-Pacific region. It aims to promote mutual friendship among member countries through goodwill and charitable activities.
The Philippine Embassy extended its appreciation to the ALFS for the opportunity to provide more information about the Philippines to the ALFS viewers who are either from Japan or the various countries in the Asia-Pacific Region. A portion of the materials shown in the online program came from the "Kultura 101" videos of the National Commission for Culture and the Arts (NCCA) hosted by Miss Universe 2018 Catriona Gray.
This online event also coincides with the Philippine Embassy's commemoration of the 66th Anniversary of the Normalization of Diplomatic Relations between the Philippines and Japan this month of July.
#TokyoPECulturalDiplomacy
#SentroRizalTokyo