Over 600 Filipinos Served by Embassy-led Outreach During 2-day Philippine Festival in Tokyo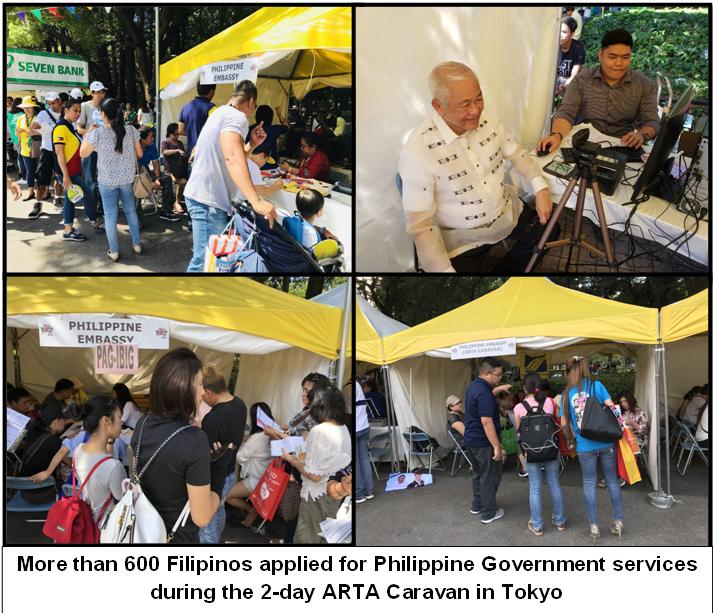 An outreach activity organized by the Philippine Embassy in Tokyo served more than 600 Filipinos from 08 to 09 September 2018 at the Hibiya Park in Tokyo, Japan.
Filipinos were able to avail themselves of services from the PAG-IBIG Fund and Social Security System (SSS), as well as National Bureau of Investigation (NBI) clearance application, Philippine drivers' license renewal, and consular consultations during the Anti-Red Tape Act (ARTA) Caravan led by the Philippine Embassy during the 2-day Philippine Festival.
"The ARTA Caravan is part of the Embassy's ongoing efforts to bring urgent and much-needed front-line government services closer to our community. We are working towards providing proactive and responsive services to our kababayan in Japan" stated Ambassador Jose C. Laurel V in his welcome remarks at the opening of the Festival.
"We conducted an informal survey of the non-DFA frontline services that our community in Japan urgently needs and which are not normally available overseas. Based on that survey, we invited partner agencies which provide those particular services to be part of our outreach at this year's Festival," noted Consul General Robespierre Bolivar, who initiated and supervised the project.
It was based on this informal survey that the Embassy identified the required services, including NBI clearance and drivers' license renewal, as well as PAG-IBIG and SSS member services.
Filipinos who availed themselves of the services during the outreach expressed their appreciation for the initiative. Some wrote on Client Feedback Forms that the outreach enabled them to save a significant amount of effort and finances since these services are usually available only in the Philippines.
This marked the first time that most of these Philippine Government agencies conducted an outreach in Japan.