Philippine Embassy Encourages JENESYS Participants to Help Strengthen PH-JP Bilateral Relations
The Philippine Embassy briefed participants from the Japan-East Asia Network of Exchange for Students and Youths (JENESYS) Program on 29 October 2019 on Philippines-Japan bilateral relations and encouraged them to engage in strengthening people-to-people exchange being one of its pillars. A total of 41 participants from the Philippines were selected to join this year's JENESYS program.
The Philippine Embassy also served as commentator during the reporting session on 31 October 2019 by the participants where they presented their action plans on how to communicate their experiences while in Japan and encourage others to know more about Japan's culture, history, and importance to the Philippines as a strategic partner. The Philippine Embassy emphasized that the action plans should be two-pronged: to deepen mutual understanding between our peoples, and to put into good use their immersion in Japan to contribute to nation-building.
Under the theme on Japanese Language and Culture, 20 high school students from various schools in the Philippines were given an opportunity to immerse themselves in Japanese culture through their homestay program at the Miyagi Prefecture as well as through visits to museums and various institutions.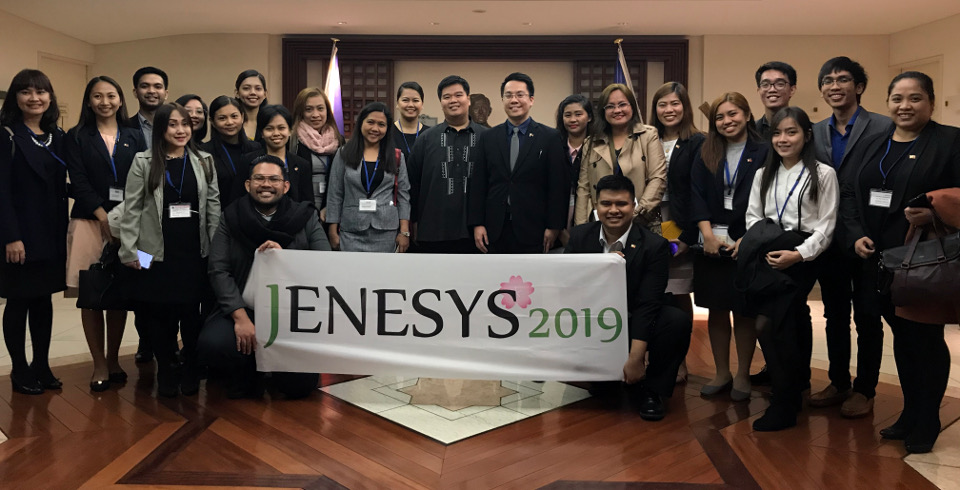 Another program, Exchange for Young Diplomats, was participated in by 21 participants mostly from the Department of Foreign Affairs, with representatives from the Foreign Service Institute, Development Academy of the Philippines, Philippine Institute for Development Studies and the University of Asia and the Pacific. During their homestay in the Nagasaki Prefecture, they visited the Nagasaki Atomic Bomb Museum which brought them face-to-face with the horrors of the atomic bombing during World War II in 1945. They were also given a briefing by Japan's Ministry of Foreign Affairs and the National Diet (House of Representatives).
The JENEYS is an exchange program that invites approximately 6,000 youths from overseas to Japan every year with a view towards promoting mutual understanding and friendship with Japanese youths and citizens.