International Campaign for the Promotion of the Puerto Princesa Underground River as One of the New Seven Wonders of Nature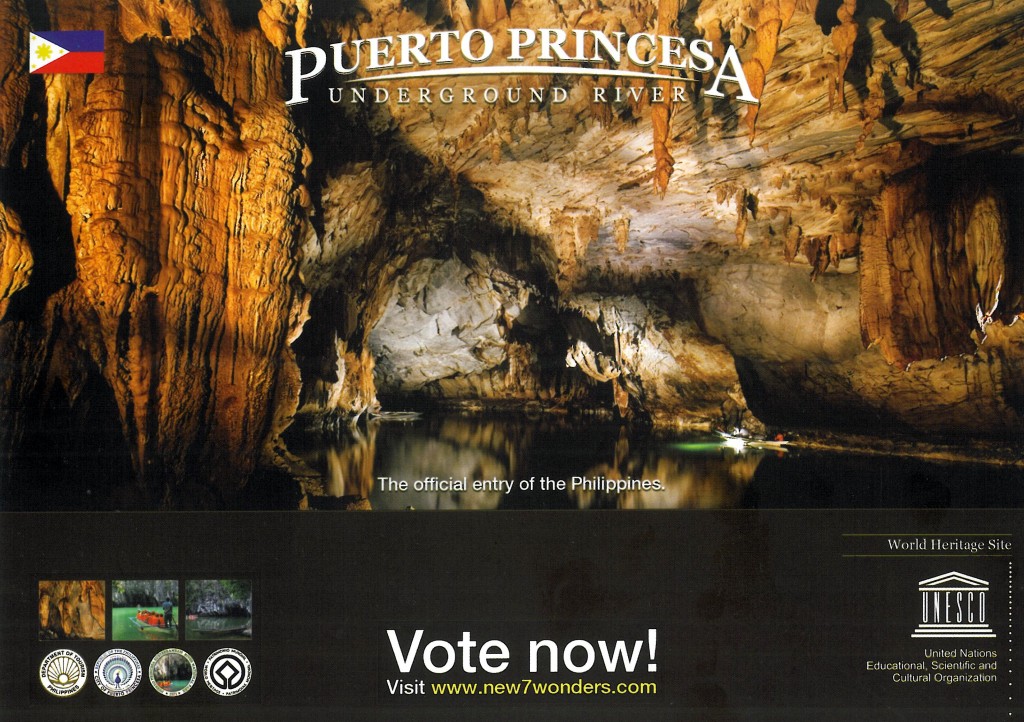 H.E. President Benigno S. Aquino III issued Proclamation No. 182 on June 03, 2011 titled, "Declaring a National and International Promotion Campaign for the Puerto Princesa Underground River (PPUR) as One of the New Seven Wonders of Nature (N7WN)."  The proclamation encourages all Filipinos, both here and abroad, and all friends of the Filipino people, to help in the campaign to ensure that the PPUR is proclaimed as one of the N7WN.
From an initial list of over 400 locations around the world, the PPUR is the lone finalist from the Philippines and now counts among the 28 Official Finalist Candidates selected by a panel of international experts from a list of 77 contenders via the first round of global voting from 2007 to 2010.
The Puerto Princesa Subterranean River National Park is located about 50 km north of the city of Puerto Princesa, Palawan, Philippines.  It features a limestone karst mountain landscape with an 8.2 km. navigable underground river.  A distinguishing feature of the river is that it winds through a cave before flowing directly into the West Philippine Sea (South China Sea).  It includes major formations of stalactites and stalagmites, and several large chambers.  The lower portion of the river is subject to tidal influences.  The underground river is reputed to be the world's longest.  At the mouth of the cave, a clear lagoon is framed by ancient trees growing right to the water's edge.  Monkeys, large monitor lizards, and squirrels find their niche on the beach near the cave.
The following are the three ways to vote for PPUR:
Vote via the N7WN Website, www.new7wonders.com or the Official PPUR website, www.puerto-undergroundriver.com
Internet voting is allowed per email address.

Click on the PPUR as your N7WN candidate
Register your email account
Send your vote

Vote via Text Message:
Each SMS sent counts as one vote for the PP Underground River in the Official New 7 Wonders of Nature.  Simply text PPUR to 2861 for Globe, Smart, and Sun subscribers.
Vote by Telephone:
You can now vote using the new international telephone voting line, available 24 hours a day, for you to call and vote at any time, from any international telephone line anywhere in the world.

Dial one of these international telephone numbers:
+239 220 1055
+1 869 760 5990
+1 649 339 8080
+44 758 900 1290
At the end of the message, after the tone, dial PPUR's 4 digit code 7723
When you hear the thank you message, you are all done – you have voted by telephone.
The Official Declaration of the N7WN will be on 11 November 2011.