RP Embassy in Tokyo Receives ¥100,000 Donation from Junior Chamber International Japan for Typhoon Victims in the Philippines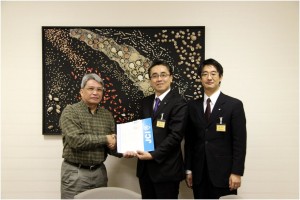 The Philippine Embassy in Tokyo received on 18 December 2009 a JPY 100,000 (approximately PHP 50,000) voluntary cash donation from the Junior Chamber International Japan (JCI) as humanitarian assistance for typhoon victims in the Philippines.
The donation was officially handed over to Consul General Sulpicio M. Confiado by Mr. Hiroyuki Ogasawara, Chairman of JCI's International Cooperation Commission, and Mr. Keita Endo, Chief Secretary.
Consul General Confiado expressed appreciation for the assistance extended by JCI to the victims of recent typhoons in the Philippines.
Tokyo Junior Chamber of Commerce (which was later called Junior Chamber) was founded in 1949 by youth volunteers who had a sense of responsibility and enthusiasm. JCI actively tackles social issues and problems and renders volunteer work to create a better society, based on three principles: "self-improvement," "service to society" and "friendship."