Japanese donates JPY200,000 on behalf of a father he never knew
The letter, sent to the Philippine Embassy in Tokyo through Japan post, began with the usual wishes for the quick recovery of the Philippines. The sender knew that the Philippines had lately been besieged with various calamities so he took it upon himself to help in whatever way he can.
However, the story of Kenji Hirakawa who hails from Fukuoka ran deeper than that. His ties to the Philippines have been sealed with blood.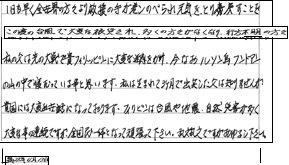 "My father lies sleeping in a mountain somewhere in Luzon," he wrote. He narrated that he was just three months old when his father, a member of the Japanese imperial army, left him to serve his country during the Second World War. His father went to the Philippines and never made it back home.
"I am enclosing here JPY200,000 yen for all the troubles my father may have caused to the Filipino people," he added. He is hoping that the money will somehow help alleviate the plight of the typhoon victims in central Philippines.
Unfortunately, Mr. Hirakawa didn't write down a contact number; his story would have been told more completely. In the end his generous gesture and its impetus only prove that, after all that has been said and done, history will always bind the Philippines and Japan together. ###