Embassy, BCDA and JOIN Invite Japanese Investors for the Development of Clark Green City
29 September 2015, Tokyo – The Philippine Embassy, the Bases Conversion and Development Authority (BCDA) and the Japan Overseas Infrastructure Investment Corporation for Transport and Urban Development (JOIN) have invited Japanese enterprises and financing institutions to invest in a joint venture partnership of the BCDA and JOIN for the development of the Clark Green City or the Clark Special Economic Zone in Tarlac.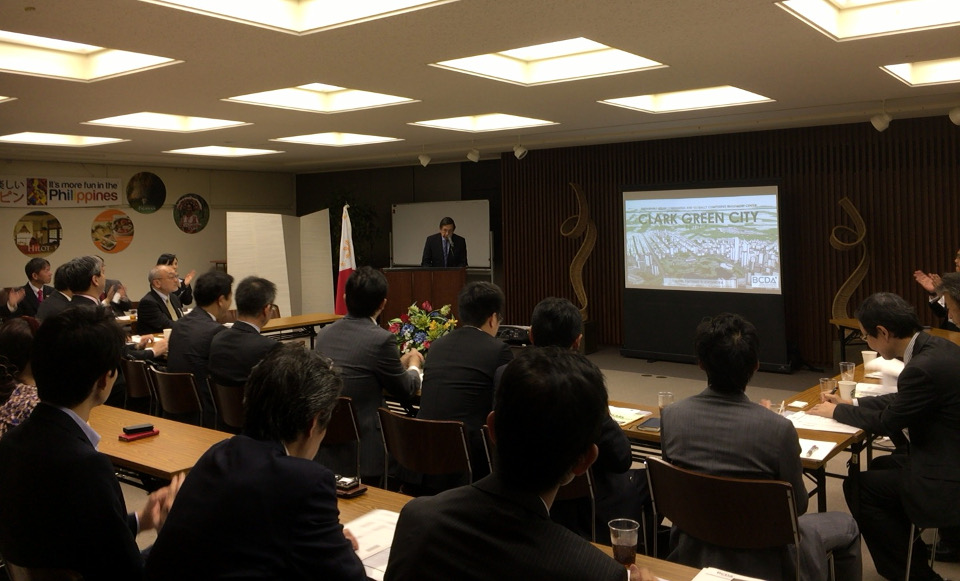 Amb. Manuel M. Lopez (photo left) welcomed the Japanese business and finance executives to the forum held in the Embassy and organized with the BCDA and JOIN to attract investors in the development of the Clark Green City, a 9,450 hectare master planned economic zone designed to be the Philippines' largest and first smart, green, disaster-resilient city that is envisioned to sustain the momentum in the country's economic growth.
The BCDA and JOIN signed a Memorandum of Cooperation on 13 August 2015 to explore collaborative opportunities in relation to infrastructure business for transport and urban development. Initially, the Clark Green City and Clark Rail Transit System were identified as initial areas of collaboration.
Following the remarks of Amb. Lopez, Mr. Ariel Paciano Casanova, BCDA CEO, and Mr. Takuma Hatano, JOIN President and CEO, (photo below) gave a briefing on the joint venture of the BCDA and JOIN that would invite Japanese entrepreneurs and investors to form fully owned corporations or in partnership with Filipino counterparts for the rail transport, power, water, real estate and other businesses in the Clark Green City.

Mr. Casanova explained the integrated development plan, fiscal and non-fiscal incentives, joint venture arrangement, bidding procedure, legal structure and lean bureaucracy of the BCDA, one-stop shop facility and partnership opportunities for the construction of the Government Center, Innovation District, Mixed-Use Development and Industrial Estates and rail and road transport system in the Clark Green City. For his part, Mr. Hatano briefed the Japanese business and finance executives on the partnership of JOIN and the BCDA and the commitment of the Japanese Government for the development of the Clark Green City which, he said, is the ideal center and gateway for the ASEAN Economic Community that will be realized by 31 December 2015. (Watch the BCDA video presentation on the Clark Green City below.)
The 34 invited participants in the Clark Green City forum were composed of executives from NEC Corporation, Sumitomo Corporation, Mitsubishi Corporation, Marubeni Corporation, Hitachi Limited, JGC Corporation, DAIWA House Industry, Urban Renaissance Agency, Japan Bank for International Cooperation, Yokohama City, Ministry of Land, Industry, Transport and Tourism of Japan; Japan International Cooperation Agency, JOIN and BCDA.